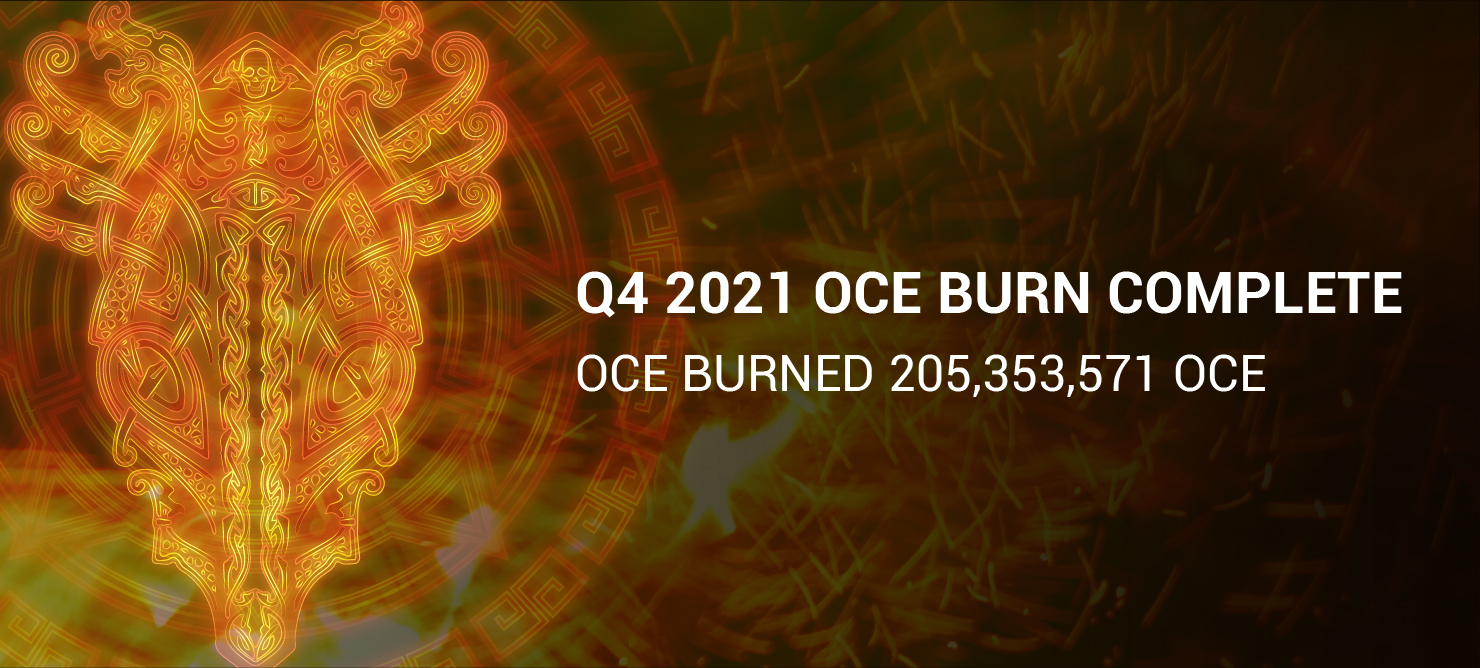 Dear OceanExers,
To thank all OCE holders' continuous support and to empower the OCE ecosystem, we are pleased to announce our 10th OCE Burn of removing 205,353,571 OCE from total market supply. Cumulative OCE token burn up till 31st December 2021 amounts to 2,102,456,670.6 OCE. OceanEx will burn OCE revenues until the total circulating supply of OCE is reduced to 7 billion. Please stay tuned.
The details of 10th OCE Burn
10th OCE Burn (Q4 2021) Amount: 205,353,571 OCE.

10th OCE Burn (Q4 2021) includes: (1) trading fee in OCE from all OCE related trading pairs; (2) withdrawal fee in OCE; (3) OCE received from Trading Fee Discount program from October 1st to December 31st, 2021.
Burn Address:
0x0ce0000000000000000000000000000000000000
Burn Record (TXID): 0x4758413c1fc291f0f9073518f7b0909cddffefdceff7306c588fb32a6887a484
OCE Circulation Information
Max Supply: 10,000,000,000 OCE
Total Supply: 7,897,543,329.4 OCE
OceanEx appreciates your support of the OCE ecosystem as always.
OceanEx Team
Jan/6th/2022
Please stay tuned and follow us on our official channels:
Twitter -  https://twitter.com/OceanexOfficial
Telegram -  https://t.me/OceanEx_Official
Telegram Germany -  https://t.me/OceanEx_German_Official
Telegram Dutch -  https://t.me/oceanexNL_dutch_official
Telegram Vietnam -  https://t.me/OceanEx_Vietnam_Official
Telegram Indian- https://t.me/OceanEx_Indian_Official
Medium -  https://medium.com/@OceanEx
Facebook -  https://www.facebook.com/OceanExPROOfficial
Reddit -  https://www.reddit.com/r/OceanExOfficial/