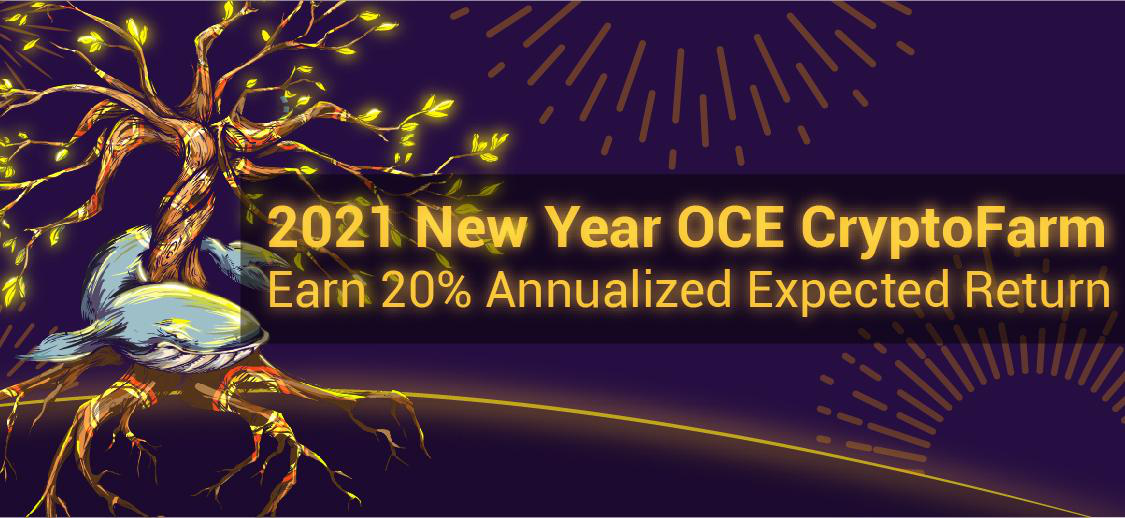 Dear users,
To thank all OCE holders for your long-time support to OceanEx - we prepare a session of OCE CryptoFarm as a 2021 Chinese new year gift with a short period - lock up 7 days to win 20% Annualized Expected Increase of OCE Amount!
We have prepared the new OCE CryptoFarm product to help you grow more tokens. Don't hesitate to join us!
OCE CryptoFarm (2/13/2021) - Earn 20% Annualized Expected Increase of OCE Amount
Product Venue: https://oceanex.pro/en/cryptodetail/85
Subscription Period: 16:00, Feb 13th to 16:00, Feb 14th, 2021 (UTC+8)
Lockup Period: 22:00, Feb 14th to 22:00, Feb 21st, 2021 (UTC+8) (7 days)
Total Lockup Amount: 100,000,000 OCE
Annualized Expected Return: 20%
Lockup Rules:

Note:
1.Subscription can't be canceled once you subscribe for the product.
2.Gains will be calculated from the start date of Lockup Period. Initial assets and gains will be transferred within 3 workdays to users' accounts after the Lockup Period.
3.OceanEx reserves the rights of final explanation.
Thanks for your support! Looking forward to your participation!
OceanEx Team
Feb/11th/2021

Please stay tuned and follow us on our official channels:
Twitter - https://twitter.com/OceanexOfficial
Telegram - https://t.me/OceanEx_Official
Telegram Germany — https://t.me/OceanEx_German_Official
Telegram Dutch — https://t.me/oceanexNL_dutch_official
Telegram Vietnam — https://t.me/OceanEx_Vietnam_Official
Telegram Mandarin — https://t.me/OceanEx_Mandarin_Official
Telegram Indian— https://t.me/OceanEx_Indian_Official
Medium - https://medium.com/@OceanEx
Facebook  - https://www.facebook.com/OceanExPROOfficial