Currently, OceanEx only supports selling BTC into Euro on Simplex, other cryptocurrencies and fiat options are not opened yet, please follow the latest news on the website for updates!
Step 1:Login to OceanEx official website: https://oceanex.pro.

Step 2:From the OceanEx homepage, under the menu "Fiat", click "Buy and Sell Crypto" to find this sell crypto function.

Step 3:As shown in the picture below, find "Simplex" and click "Sell" to enter the sell coins interface.

Step 4:As shown below, please fill in the amount of assets you are going to sell according to the dialog box. Be sure to carefully check the amount of assets you are selling and confirm the amount of Euros you will receive.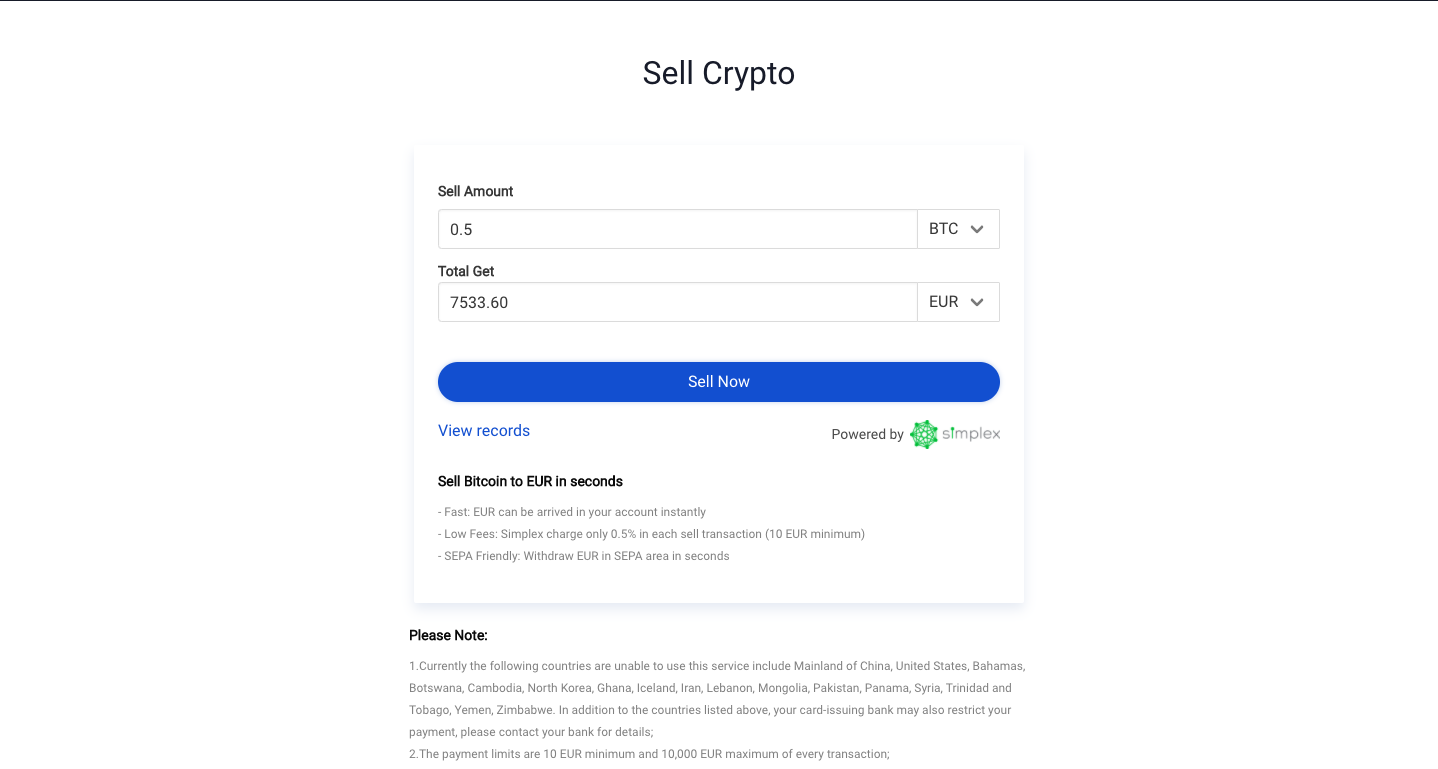 Step 5:Please read the notes carefully to avoid unnecessary trouble. If you meet the following countries or regions that Simlex does not support, we are very sorry about this.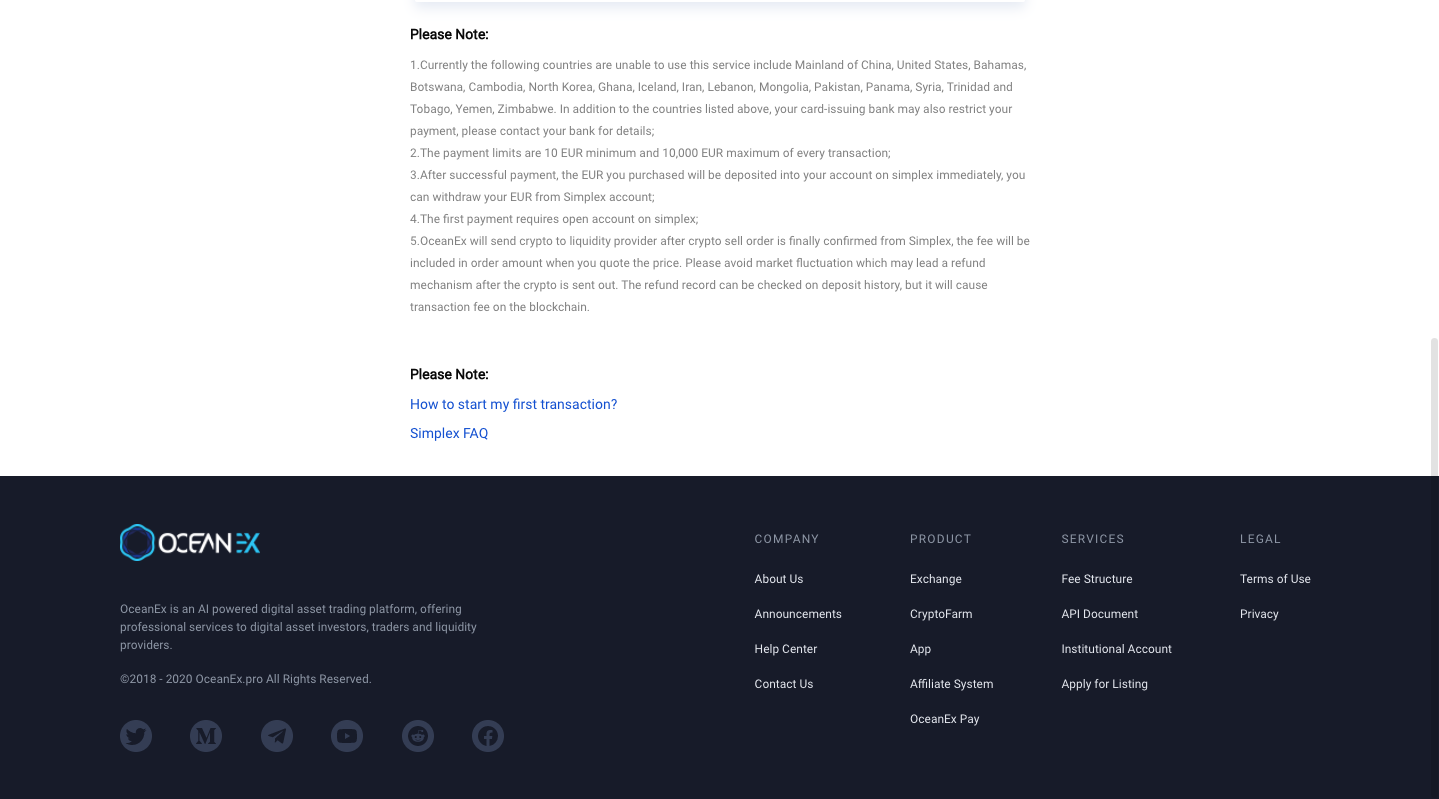 Please Note:
Currently the following countries are unable to use this service include Mainland of China, United States, Bahamas, Botswana, Cambodia, North Korea, Ghana, Iceland, Iran, Lebanon, Mongolia, Pakistan, Panama, Syria, Trinidad and Tobago, Yemen, Zimbabwe. In addition to the countries listed above, your card-issuing bank may also restrict your payment, please contact your bank for details;
The payment limits are 20 EUR minimum and 10,000 EUR maximum of every transaction;
After successful payment, the EUR you purchased will be deposited into your account on simplex immediately, you can withdraw your EUR from Simplex account;
The first payment requires open account on simplex;
OceanEx will send crypto to liquidity provider after crypto sell order is finally confirmed from Simplex, the fee will be included in order amount when you quote the price. Please avoid market fluctuation which may lead a refund mechanism after the crypto is sent out. The refund record can be checked on deposit history, but it will cause transaction fee on the blockchain.
Step 6:Please confirm again the amount of assets you are going to sell and the amount of Euros you will receive. If there is an error, please click "Cancel" and fill in it again. When you have confirmed that there is no error, please click "Confirm" and let's move to the next step.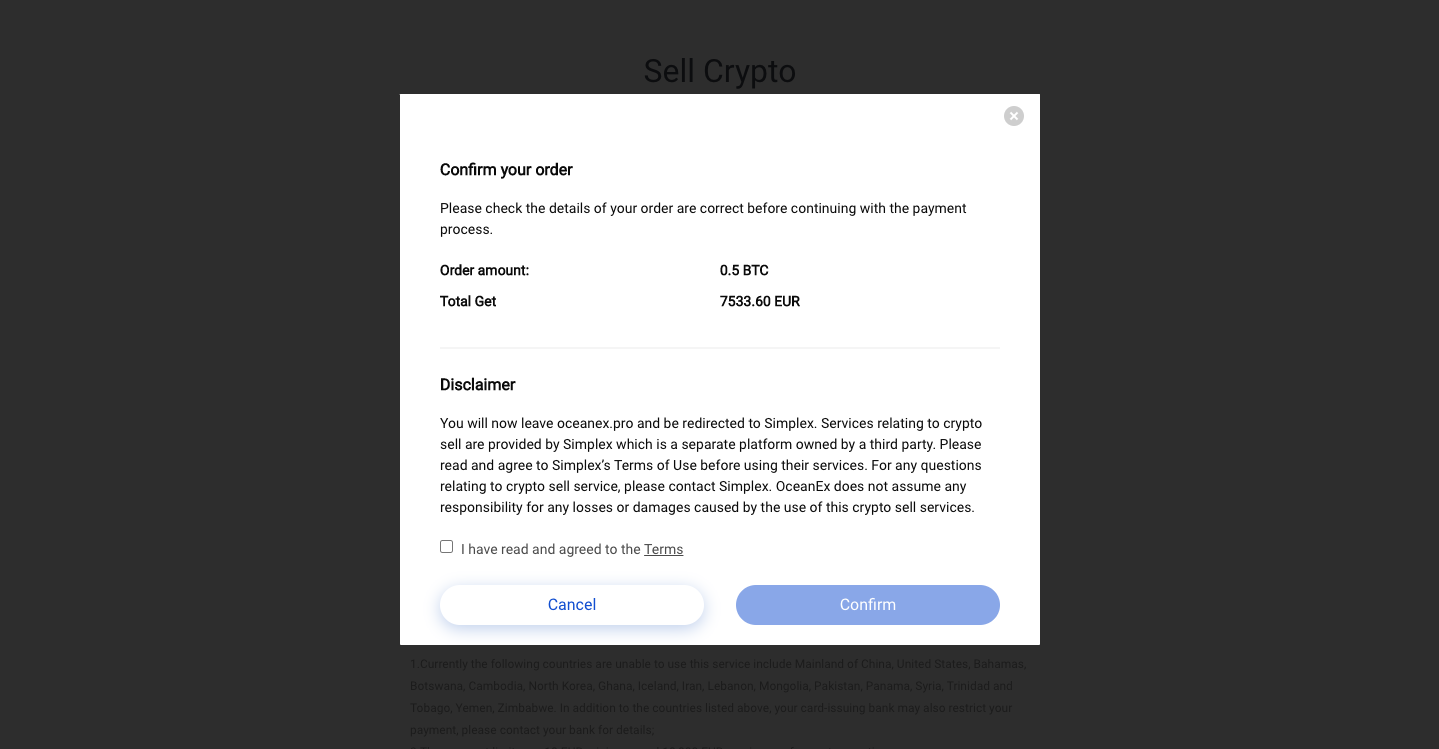 Step 7:As the notes shows"The first payment requires open account on simplex",If you are a new Simplex user, please refer to Figure 1 to fill in your email address to begin the registration on Simplex, and follow the steps of identity authentication, etc. Please follow the steps of Simplex to complete registration and authentication step by step. We apologize for any inconvenience this may cause you. If you have already registered an account on Simplex (not the first time to sell coins on Simplex), you can select your account as shown in Figure 2, and follow the Simplex prompts to complete the required steps.
Figure 1: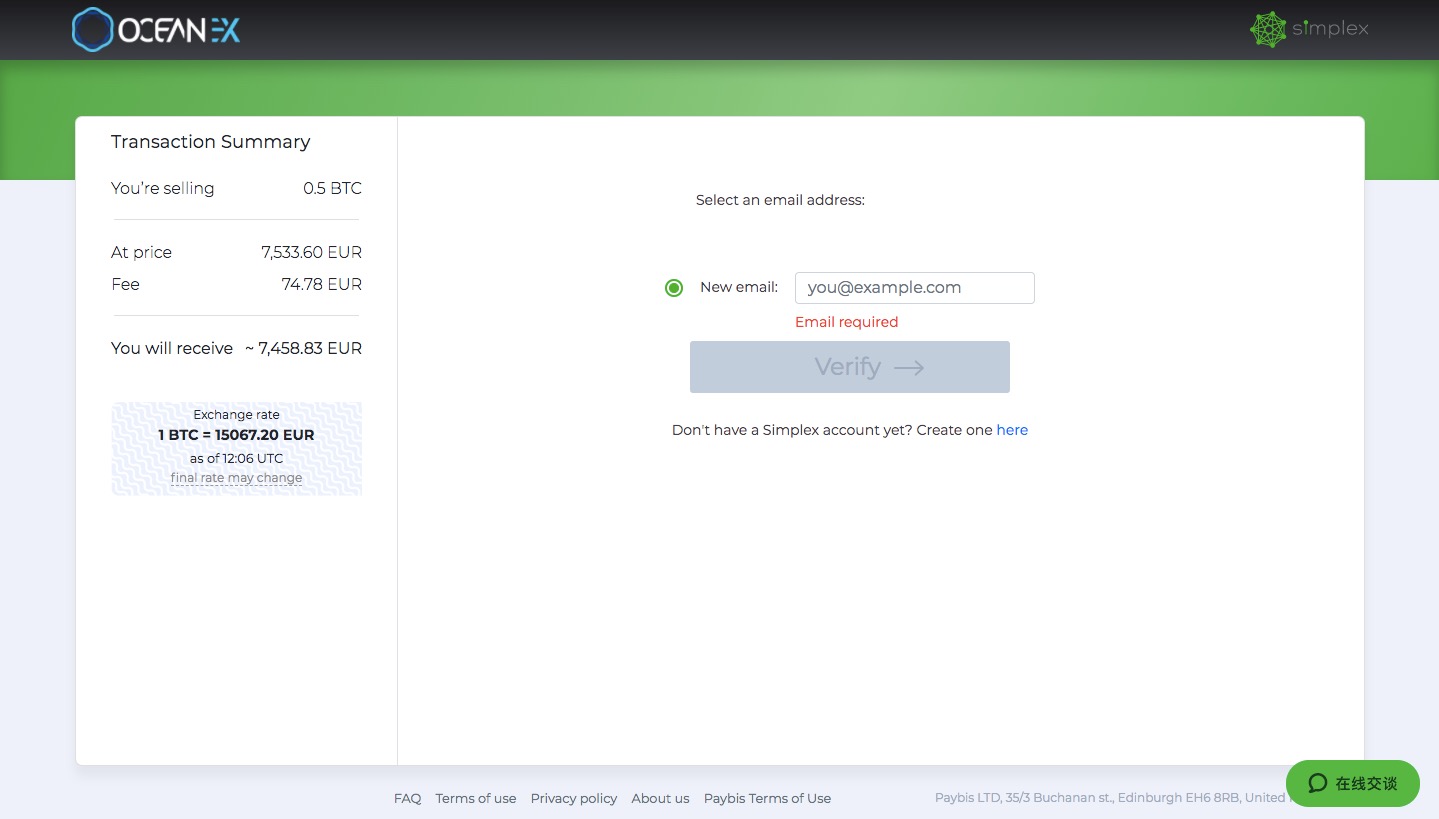 Figure 2: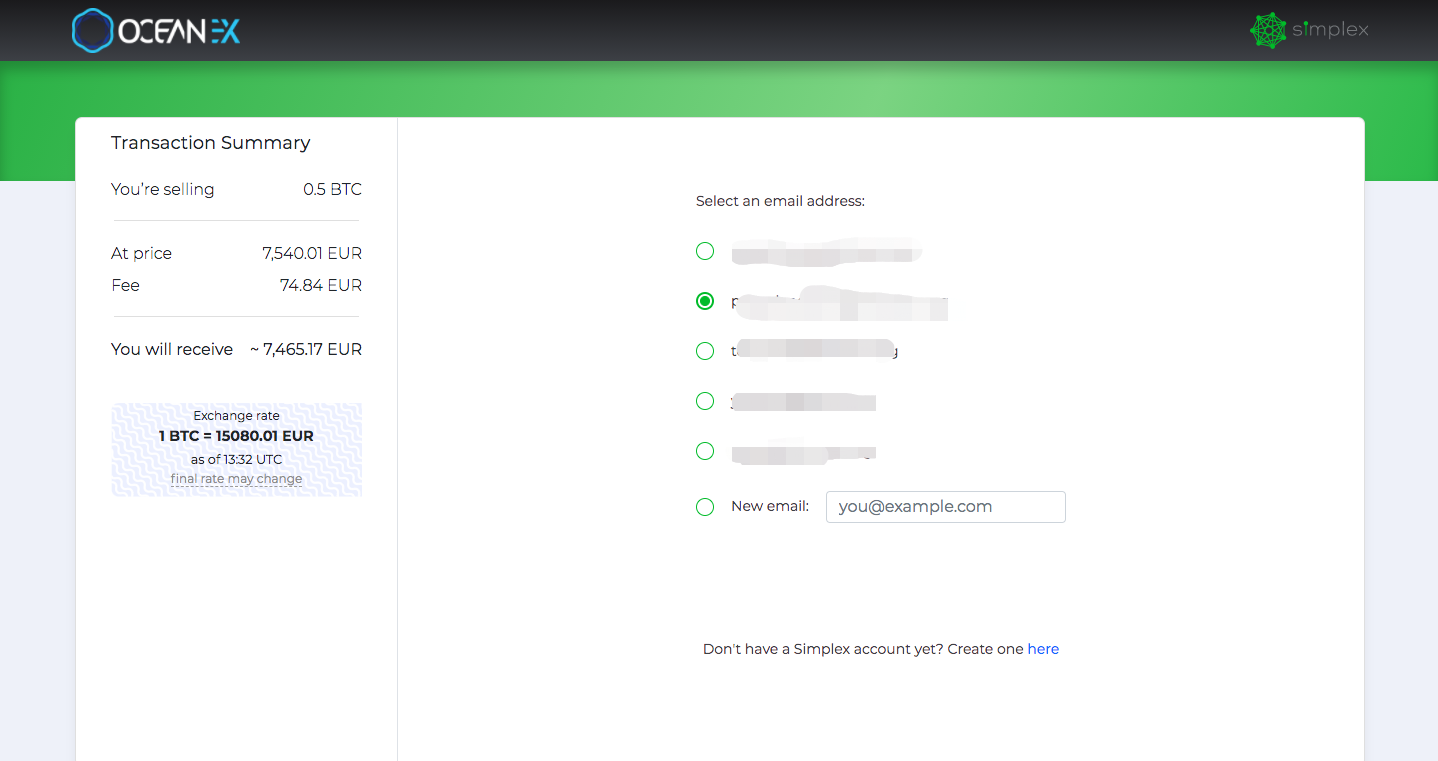 Step 8:We will ignore your registration and authentication steps on Simplex. After you have registered successfully, you will see the interface as shown in the figure below. Please make sure you have received the confirmation email. According to the prompts, enter your registered email to confirm the transaction.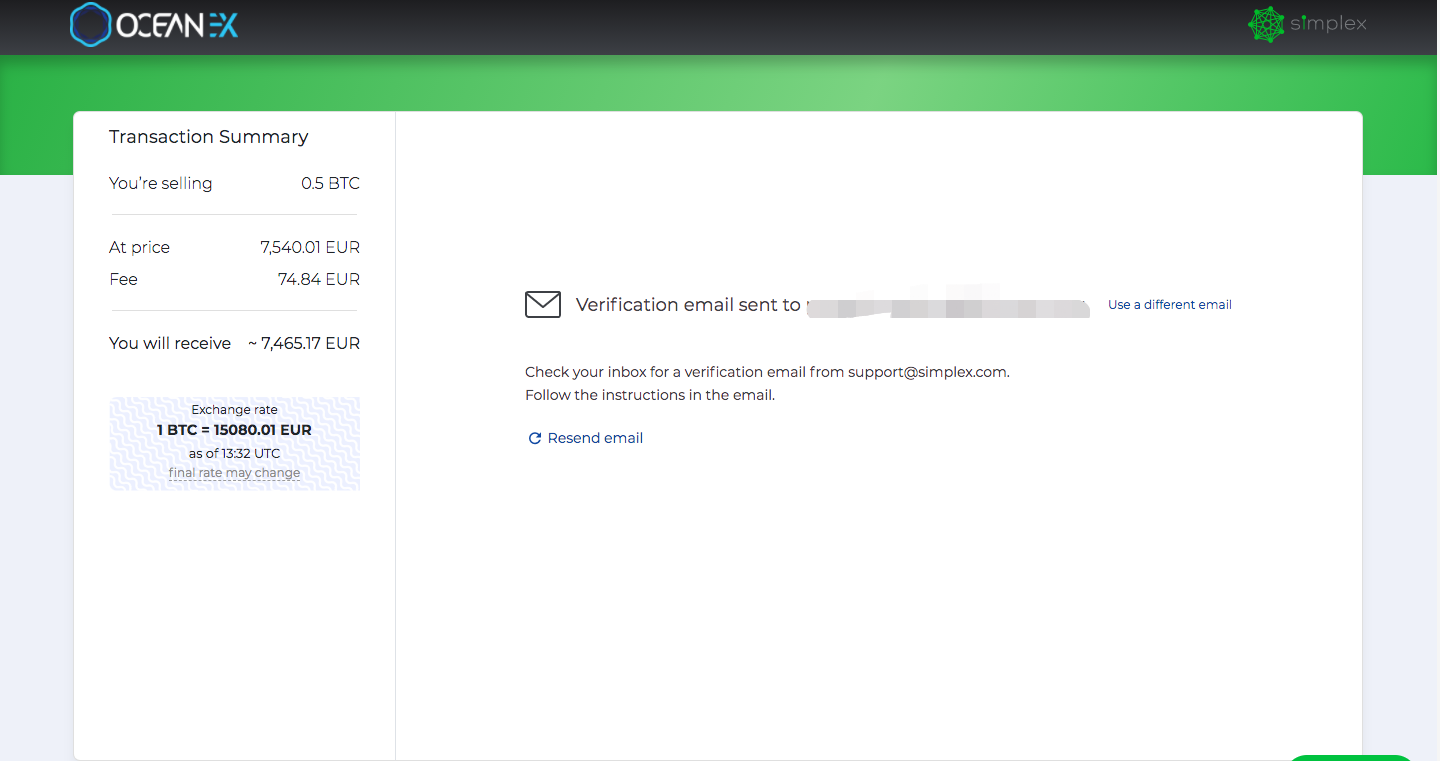 Step 9:When you complete the confirmation in the email, you will see the interface as shown in the figure below. Your crypto asset is being sent out. Please wait patiently for the confirmation of blockchain and the subsequent progress.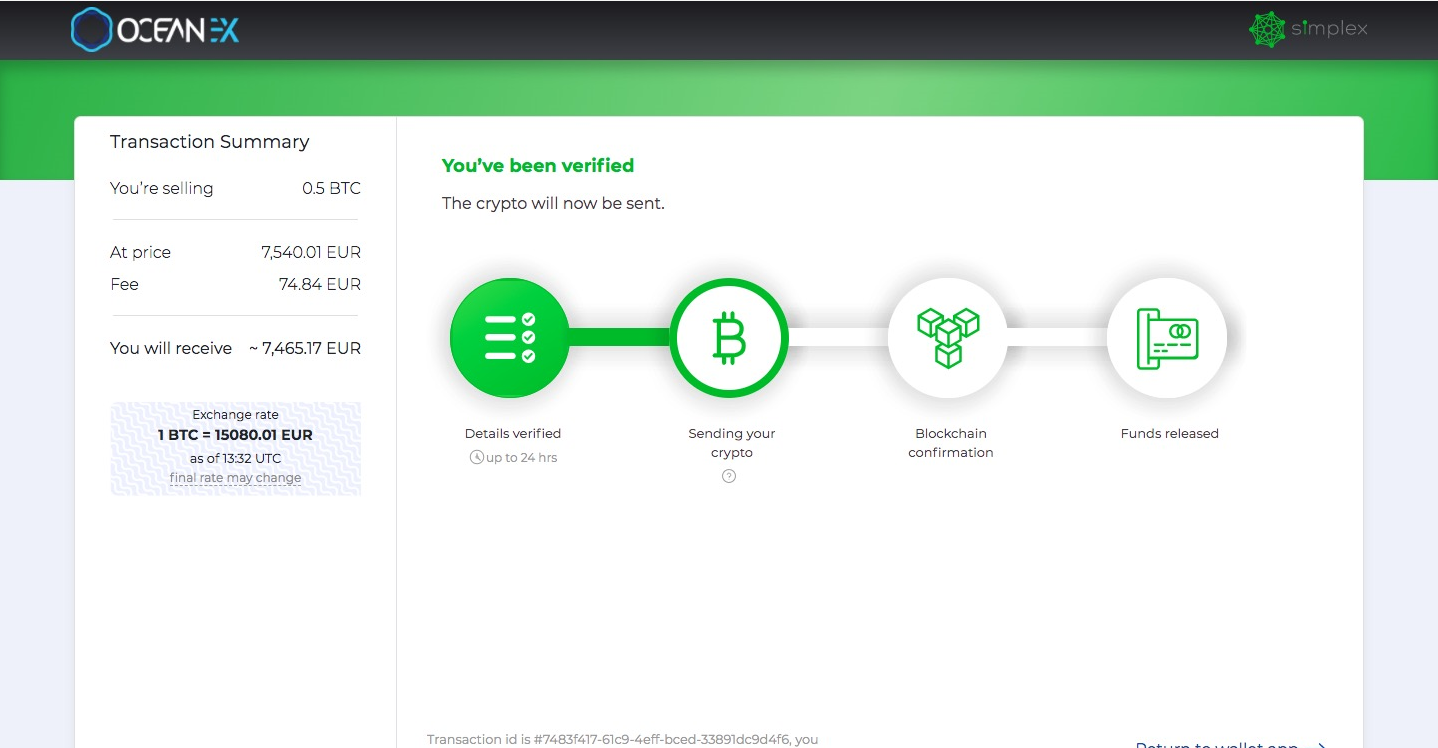 Step 10: When the blockchain is confirmed, you will see the following interface. Congratulations, you successfully sold your crypto assets on Simplex.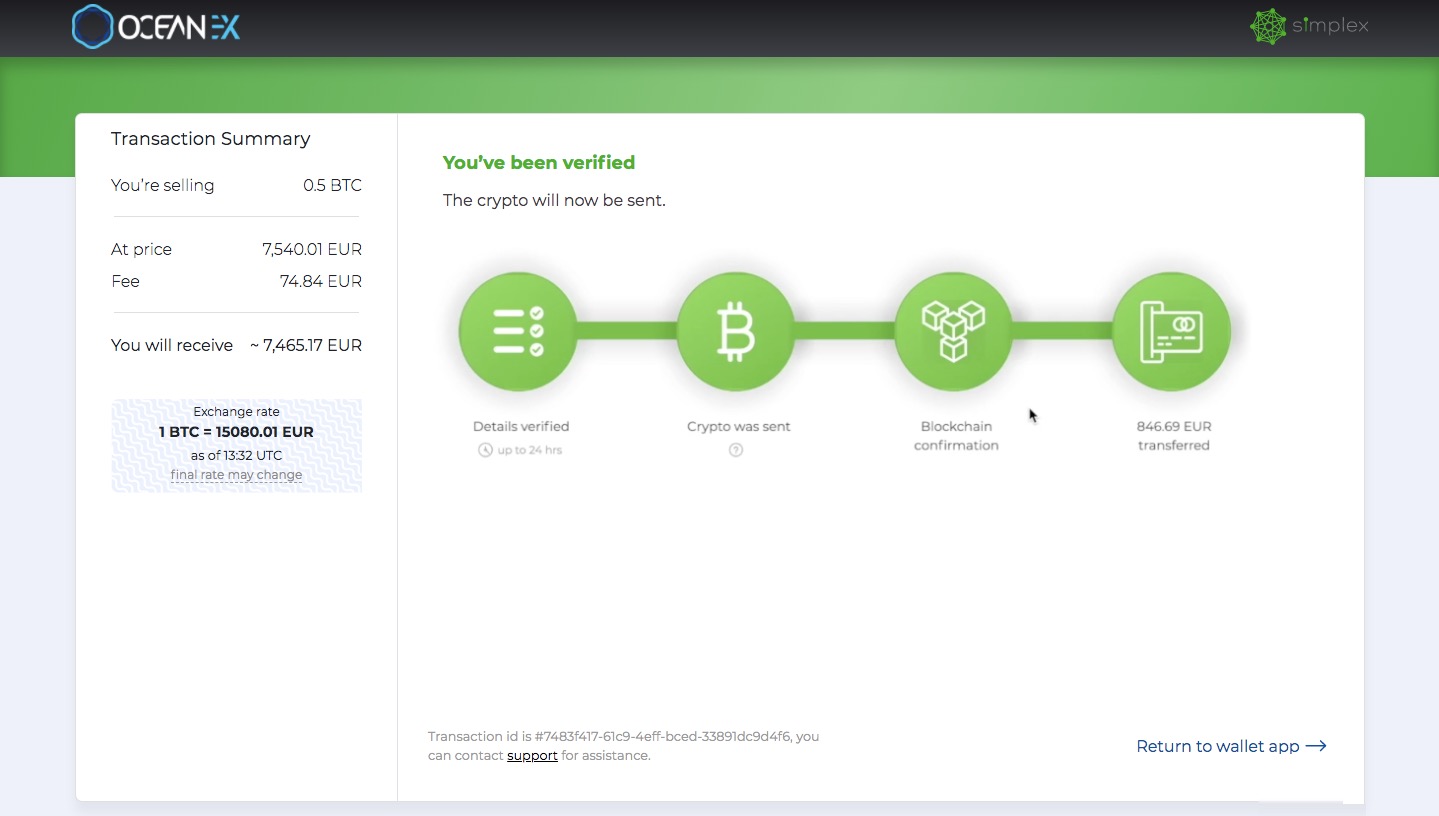 Step 11: Let's lick "Return to wallet app" to check the latest progress of your transaction!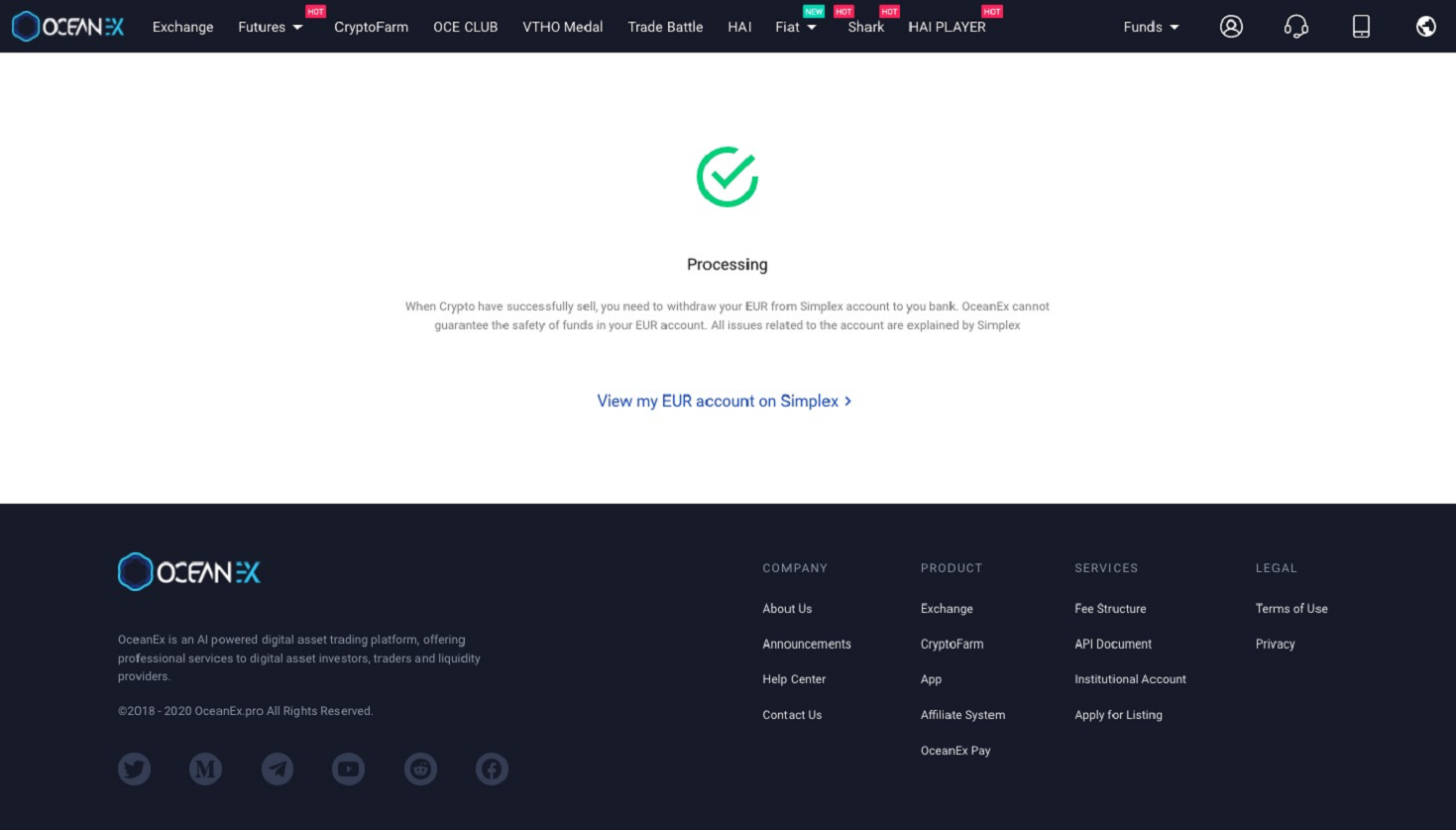 Please note:When Crypto have successfully sell, you need to withdraw your EUR from Simplex account to you bank. OceanEx cannot guarantee the safety of funds in your EUR account. All issues related to the account are explained by Simplex.
Step 12:If you need to withdraw your euros from Simplex, please go to Simplex to finish the operation. Currently Simplex only supports withdrawals via SEPA. Thank you for your understanding and support.