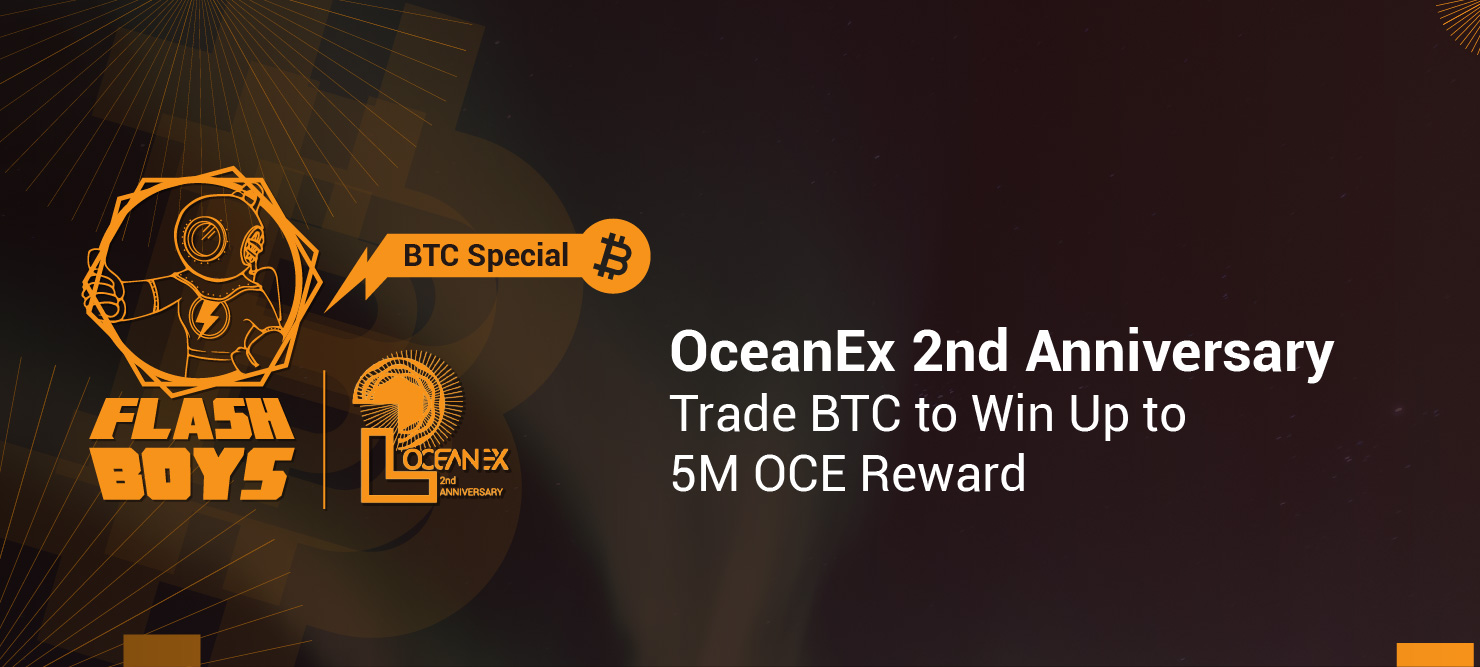 Dear users,
To celebrate OceanEx 2nd Anniversary, we have prepared a Flash Boys Trading Competition- Trade BTC/USDT trading pair to Win Up to 5M OCE reward.
Contest Period: 18:00, November 23rd — 18:00, November 28th, 2020 (UTC+8) (5 days)
Contest Venue:https://oceanex.pro/en/activity/BTC_TRADING
Contest Trading Pairs: BTC/USDT
Trading Battles — Win Up to 5M OCE
Trade to Share a Prize Pool of 5M OCE
During the competition period, the prize pool of 5M OCE will be distributed among all BTC/USDT traders according to the proportion of individual's BTC/USDT trading volume (buys and sells volume during the competition period) contributing to All Traders' BTC/USDT Trading Volume (all platform traders' BTC/USDT buys and sells volume during the competition period).
For example, if your total trading volume of BTC/USDT trading pair is X, All Traders' Trading Volume of BTC/USDT trading pair is Y, the prize pool is Z, your rewards will be calculated as X/Y*Z.
Note
Rewards will be distributed into your OceanEx account within 7 workdays after the event ends.

OceanEx will check for duplicate or fake accounts and will not pay out any rewards on these accounts.

Trading volume counts both buys and sells, excluding any wash trades, self-trading across all

BTC

related trading pairs.
OceanEx reserves the right to disqualify trades that are deemed to be wash trades or illegal bulk registration accounts, self-dealing or display attributes of market manipulation, etc.

OceanEx reserves the rights of final explanation.
Thanks for your support! Looking forward to your participation!
Risk Warning: OceanEx provides a digital asset exchange platform. Cryptocurrency investment is subject to high risks and please be cautious about investing in the market.
OceanEx Team
Nov/20th/2020
Please stay tuned and follow us on our official channels:
Twitter — https://twitter.com/OceanexOfficial
Telegram — https://t.me/OceanEx_Official
Telegram Germany — https://t.me/OceanEx_German_Official
Telegram Dutch — https://t.me/oceanexNL_dutch_official
Telegram Vietnam — https://t.me/OceanEx_Vietnam_Official
Telegram Mandarin — https://t.me/OceanEx_Mandarin_Official
Telegram Indian- https://t.me/OceanEx_Indian_Official
Medium — https://medium.com/@OceanEx
Facebook — https://www.facebook.com/OceanExPROOfficial