Dear users,
We are glad to inform you that OceanEx is going to change its USD deposits' receiving bank in the USD Gateway channel.
New account effective time: November 1st, 2020(UTC-7).
Please be informed that Prime Trust will be moving its banking operations from Pacific Mercantile Bank to Royal Business Bank. Please note, wires sent to Pacific Mercantile Bank on or after November 1, 2020 (UTC-7) will no longer be accepted and will be returned to the sender.
Please use the following wiring instructions to ensure proper credit to your account.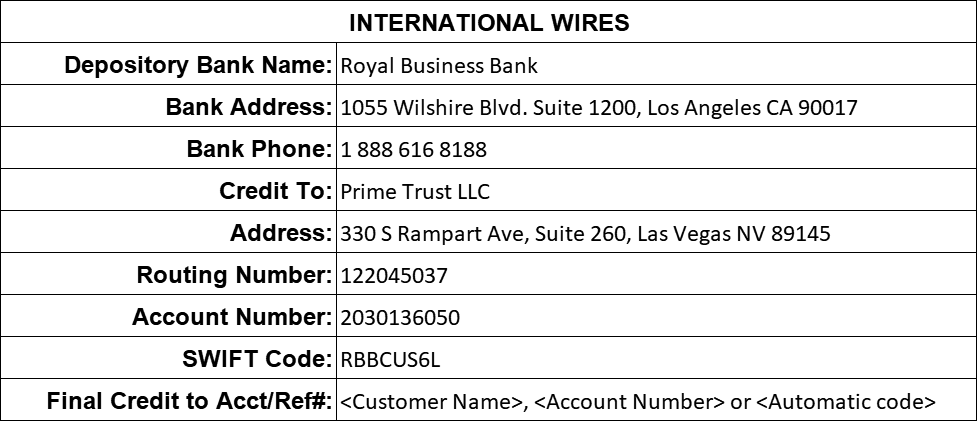 We are very sorry if this caused you any inconvenience. Should you have any questions or concerns, please contact us via a ticket.
Thanks for your continued support of OceanEx. Please have a nice day!
OceanEx Team
Oct/30th/2020
Please stay tuned and follow us on our official channels:
Twitter - https://twitter.com/OceanexOfficial
Telegram - https://t.me/OceanEx_Official
Telegram Germany — https://t.me/OceanEx_German_Official
Telegram Dutch — https://t.me/oceanexNL_dutch_official
Telegram Vietnam — https://t.me/OceanEx_Vietnam_Official
Telegram Mandarin — https://t.me/OceanEx_Mandarin_Official
Telegram Indian— https://t.me/OceanEx_Indian_Official
Medium - https://medium.com/@OceanEx
Facebook  - https://www.facebook.com/OceanExPROOfficial