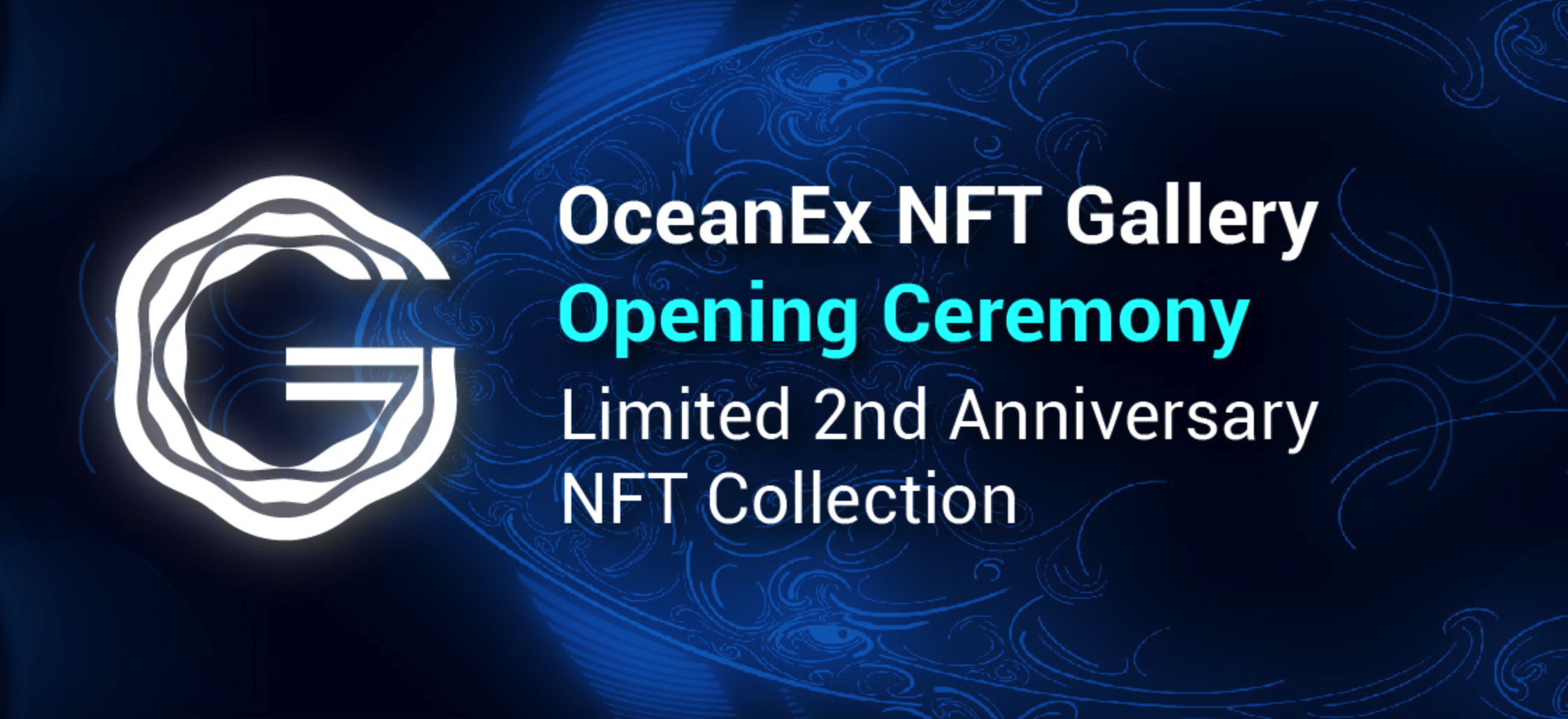 Dear users,
We are excited to announce that OceanEx has launched the OceanEx NFT Gallery for our loyal and committed OceanExers to discover and collect limited and exclusive digital artworks powered by VeChain mainnet. Today is the 2nd birthday of OceanEx, we are grateful for your long-time support. At this moment, we are pleased to host a special event to thank and give back to our beloved community!
As the Initial collection issued by OceanEx NFT Gallery, OceanEx 2nd anniversary limited NFT collection issued 10 pieces of artwork, each artwork has been minted to 10 NFTs, added up to 100 NFTs in total. Marine creatures, myth, history, and art are the sources of inspiration for the first collection. Being a limited collectible series, the value of the OceanEx 2nd Anniversary Commemorative Collectible NFTs might be something to look forward to in the future.
🔹Click here to preview the full collection in advance.
🔹Event time: 22:00, Nov 30th - 22:00, Dec 12th (UTC+8)
🔹Sign-up for the event: https://forms.gle/3ThSDZ9NNBx36SUf7
🔹Prizes: 100 pieces of limited edition OceanEx 2nd Anniversary Commemorative NFT, each participant can win ONLY ONE NFT.
🔹Event Rules: There are 2 ways in winning the NFTs:
Hold OCE to be "Active Supporter"
90 NFTs

will be distributed to the top 90 OCE holders according to the ranking of individuals OCE holding amount

only on OceanEx Platform

. If you want to hold more OCE, please

click

here

t

o purchase.

Fill in the form from

here

to apply.

NFT will be only distributed to the OCE deposit address of VeChainThor Wallet.
The individual holding OCE amount final ranking is based on the snapshot of users' OCE assets holding in OceanEx platform on 18:00, December 12th, 2020 (UTC+8). OCE holding amount in the VeChainThor Wallet will not be calculated in the snapshot.
Deposit random amount to be "Active Supporter"
Follow @OceanexOfficial, retweet This Tweet with a comment

this tweet

, along with #OceanExNFTGallery and #OceanExTurns2, and tag 3 friends;

Join OceanEx official telegram group (

https://t.me/OceanEx_Official

);

Make a deposit (any amount more than the minimum deposit limit) of any tokens on OceanEx from 22:00, Nov 30th - 22:00, Dec 12th (UTC+8),

click here

t

o make a deposit on OceanEx;

Fill in the form from

here

.

10 NFTs

will be randomly distributed to 10 Active Supporters.
Important Notice:
Each participant can only win one NFT, OceanEx will check for duplicate or fake accounts and will not reward these accounts.

Please fill in the

OCE deposit address of VeChainThor Wallet

to claim and receive the reward. OceanEx OCE deposit address will not be able to receive the reward. If you don't have VeChainThor Wallet, please

click here

to download the VeChainThor Wallet.

All participants need to sign up for the event by filling

the google form

.

Winners will be announced on

OceanEx official Twitter

.

All participants must complete all steps in the 2nd method or will be disqualified and will not receive any rewards.

Rewards will be distributed within 14 working days after the event.

After receiving the NFT, please click here to check out your piece.

The Limited 2nd Anniversary NFT collection has no value to be redeemed by OceanEx and they are for collection purposes only.

OceanEx reserves the right of final explanation.