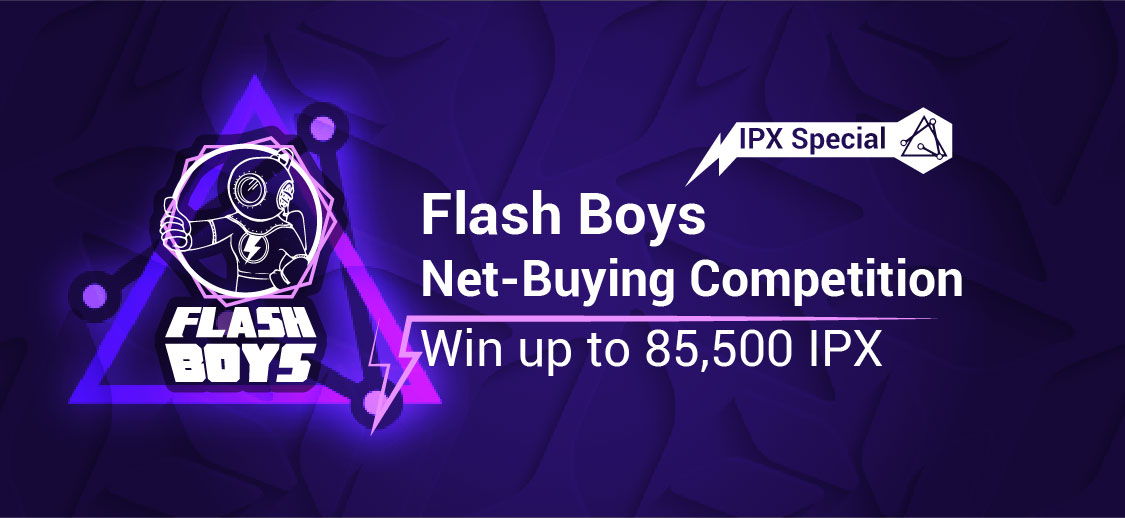 Dear users,
To thank you all for your long-time support and to promote IPX ecosystem, OceanEx will hold the Flash Boys Net-Buying Competition jointly with IPX.
During the competition, users who buy IPX at OceanEx will be ranked based on the net buying amount (IPX buying amount minus IPX selling amount). Top 100 traders will be rewarded with a prize accordingly!
Event Period: 19:00, Feb 7th - 19:00, Feb 13th, 2020 (UTC+8)
Trading Pairs:IPX/USDT, IPX/BTC
Event Rules:
During the event, the top 100 traders whose net buying amount ≥ 1400 IPX can gain the corresponding bonus as follows: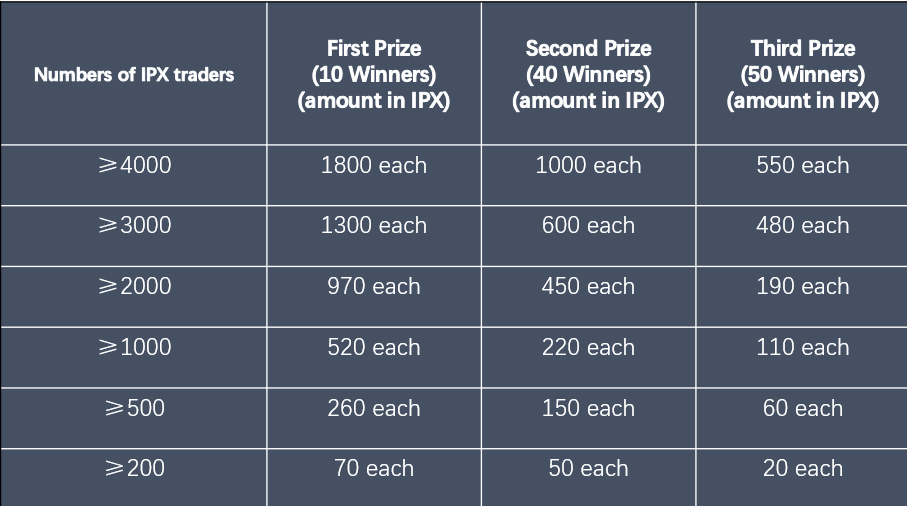 Note:*The top 100 traders with OCE club membership can gain 100 IPX as an extra bonus.
Net buying amount = total buying amount during the event - total selling amount during the event

Under the circumstances of equal net buying amount, the trader who first reaches the mentioned benchmark (i.e. 1,400 IPX) will get a superior ranking.

The final reward will be calculated based on the actual number of participants.
Important Notice:
1.OceanEx will check for duplicate or fake accounts and will not pay out any reward on these accounts.
2.The corresponding bonus will be distributed into winners' accounts within 7 workdays after the event.
3.OceanEx reserves the right of the final explanation.
Thanks for your support! Looking forward to your participation!
Risk Warning: OceanEx provides a digital asset exchange platform. Cryptocurrency investment is subject to high risks and please be cautious about investing in the market.
OceanEx Team
Feb/7/2020
Please stay tuned and follow us on our official channels:
Twitter - https://twitter.com/OceanexOfficial
Telegram - https://t.me/OceanEx_Official
Telegram Germany - https://t.me/OceanEx_German_Official
Telegram Dutch - https://t.me/oceanexNL_dutch_official
Telegram Vietnam - https://t.me/OceanEx_Vietnam_Official
Medium - https://medium.com/@OceanEx
Facebook - https://www.facebook.com/OceanExPROOfficial