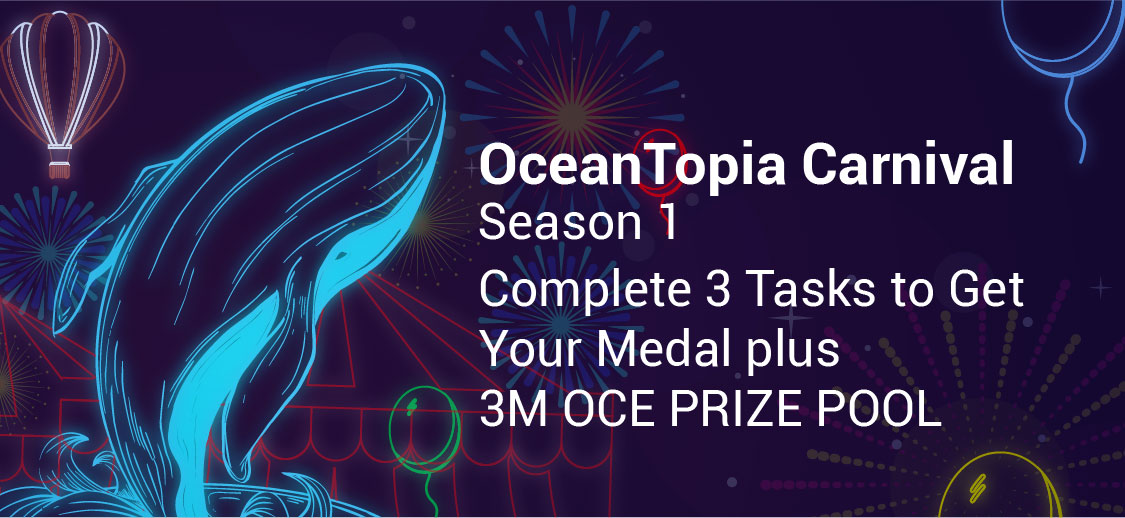 Dear OceanExers,
To thank all your support to our newly launched perpetual contract, we are thrilled to launch the "OceanTopia Carnival - Season 1", and preparing all with exclusive tickets to enter into our Secretland. COMPLETE THE TASKS to get your ticket to Cryptopia for all OceanExers and crypto lovers, with EXTRAORDINARY CHANCE to share up to 2,000,000 OCE PRIZE POOL!
Event time: 19:00, 21 Jan. - 19:00, 31th, Jan. (UTC+8)
Event Rules:
We are preparing 3 tasks for all OceanExers, and only completing all the tasks can you get your ticket to OceanTopia with the chance to share 2,000,000 OCE prize pool. All three tasks have their exclusive prize for all participants!
Task 1: Social Media Campaign
Follow @OceanEx_Official, Retweet the campaign's poster or post it via a telegram group with no less than 400 members. Add @OceanEx_Whale as your contact, and send your OceanEx e-mail account and retweet link or screenshot of TG group post.
If retweets reach 100, then 10 random tweets will be rewarded with 300 OCE each, every 100 additional retweets will generate 5 more random rewarded tweets, and the last retweet will be rewarded with 2020 OCE.
Task 2: Perpetual Contract Trading
During the event, users whose accumulated trading volume achieves $100,000 (USDT margin) or 4,000,000 Contr. VET (equivalent value of $40,000)are considered as completing the task.
The top 3 users based on trading volume during the event will be rewarded with extra bonus:
Top 1. 300,000 OCE
Top 2. 200,000 OCE
Top 3. 100,000 OCE
Task 3:
Users who post any OceanEx trading history in perpetual contract, along with the content " I am joining the #OceanTopiaCarnival on #OceanEx" are considered as completing the task.
The user who has the highest realized profit will be rewarded with an extra bonus of 20,000 OCE.
OceanTopia ticket is your chance to join in this fabulous crypto carnival of all time. Join and get your chance to meet other crypto enthusiasts and win the big prize!
Important Notice:
1.OceanEx will check for duplicate or fake accounts and will not pay out any reward on these accounts.
2.The corresponding bonus will be distributed into winners' accounts within 10 workdays after the event.
3.OceanEx reserves the right of the final explanation.
Thanks for your support! Looking forward to your participation!
Risk Warning: OceanEx provides a digital asset exchange platform. Cryptocurrency investment is subject to high risks and please be cautious about investing in the market.
OceanEx Team
Please stay tuned and follow us on our official channels: