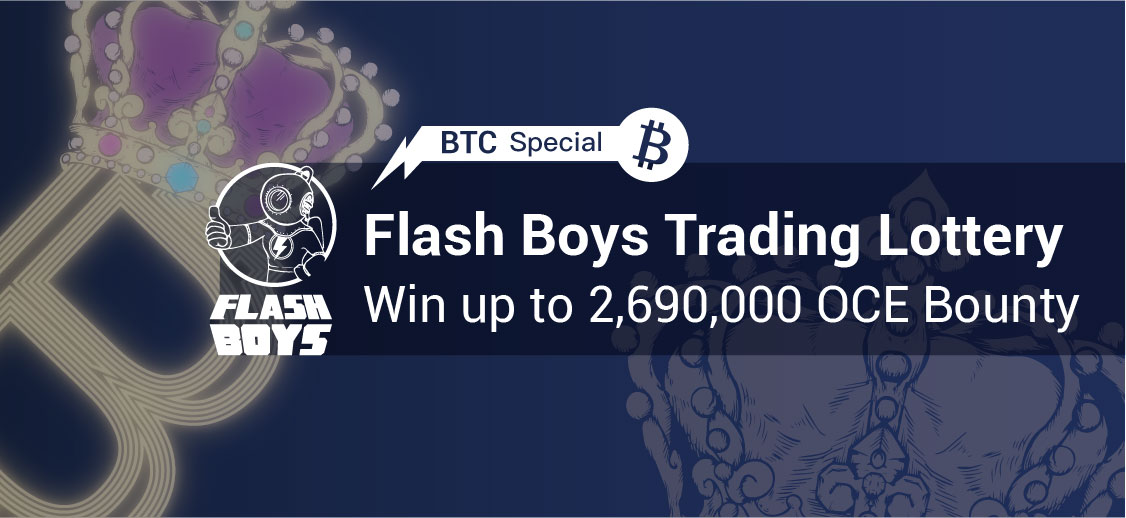 Dear users,
To thank you all for your long-time support, we have launched a new prize draw activity! During the event, all the users involved in BTC trading pairs will have chances to participate in the lucky draw and win the jackpot of up to 2,690,000 OCE!
Event Period: 19:00, Jan 20 - 19:00, Jan 26, 2020 (UTC+8).
Applicable trading pairs: BTC/USDT、ETH/BTC、EOS/BTC、VET/BTC
Event Rules:
During the event, users whose accumulated trading volume (buying amount + selling amount) ≥0.2 BTC can get access to the prize draw. In total, 36 participants will be selected, receiving assorted OCE bonus (based on the total number of participants) as follows:

Note:
This event is only available for BTC spot trading users.
Important Notice:
1.OceanEx will check for duplicate or fake accounts and will not pay out any reward on these accounts.
2.The corresponding bonus will be distributed into winners' accounts within 10 workdays after the event.
3.OceanEx reserves the right of the final explanation.
Thanks for your support! Looking forward to your participation!
Risk Warning: OceanEx provides a digital asset exchange platform. Cryptocurrency investment is subject to high risks and please be cautious about investing in the market.
OceanEx Team
Please stay tuned and follow us on our official channels: