Dear users,
PRESENT FROM MR. BILLIONAIRE has completed successfully. We sincerely appreciate all your support and contributions to our event!
The rewards of the event above have been distributed into your oceanex.pro accounts. You can check the rewards distribution history at your registered Email accounts. You can also click "Balances" under the "Funds" option to check your rewards.
Congratulations to all the winners of the event! Here, we want to announce the award list of the event as follows:
Top 10 Winners List of PRESENT FROM MR. BILLIONAIRE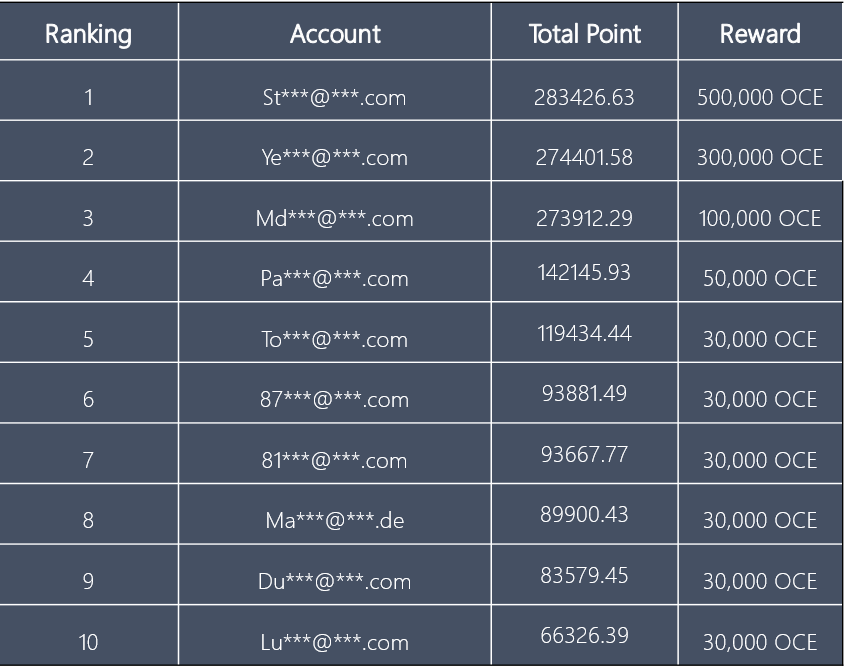 Note: Since the start of the simulation competition, we have found many participants with duplicate accounts, leading to a huge profit increase in certain participants. After a series of investigations, we found that a number of the participants are signed in from the same IP address and their email addresses provided are suspiciously similar to each other. Therefore, in order to maintain the impartiality of the competition, we have cancelled the rewards on those duplicate or fake accounts.
Thanks for your support!
OceanEx Team
Dec/18/2019
Please stay tuned and follow us on our official channels:
Twitter - https://twitter.com/OceanexOfficial
Telegram - https://t.me/OceanEx_Official
Telegram Germany - https://t.me/OceanEx_German_Official
Telegram Dutch - https://t.me/oceanexNL_dutch_official
Telegram Vietnam - https://t.me/OceanEx_Vietnam_Official
Medium - https://medium.com/@OceanEx
Facebook - https://www.facebook.com/OceanExPROOfficial