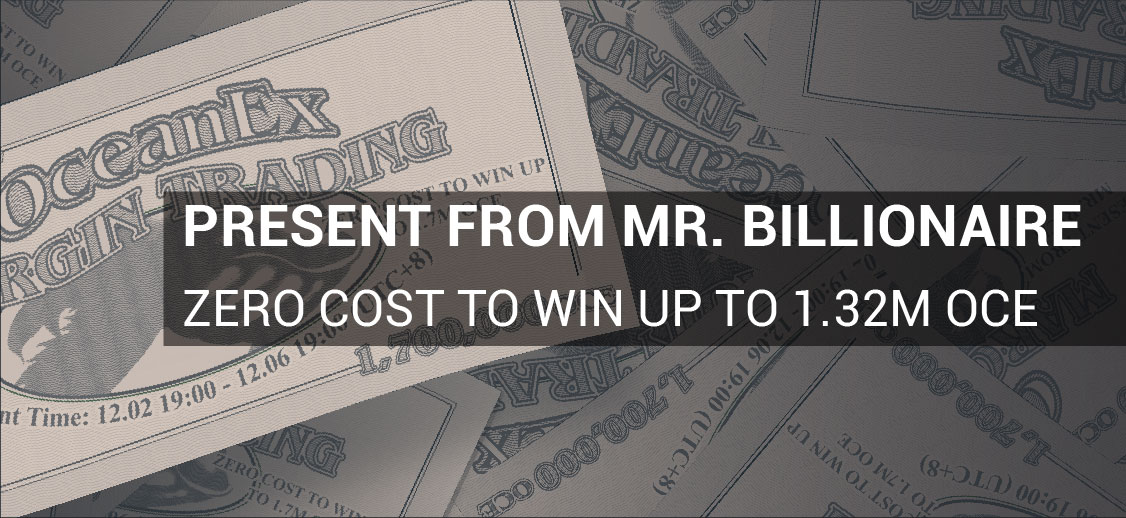 Dear Users,
To celebrate the upcoming perpetual contract, OceanEx will launch the PRESENT FROM MR. BILLIONAIRE -Simulated Perpetual Trading Competition: a chance to win up to 1.32M OCE with ZERO cost!
Event Time: 21:00, Dec 4th - 21:00, Dec 8th, 2019 (UTC+8)
Rules:
Join OceanEx Official Telegram group, and PM https://t.me/oceanExOfficialBot with your OceanEx account.
Users can log in to enter into the page, open the perpetual account, then you can claim your initial 15000 BUSD.
During the event, each user's total perpetual trading volume must be no less than 50,000 BUSD. Every positive earning of 1 BUSD will be transferred to 1 point. (The Earning Points = The Final Simulated Capital - The Initial Simulated Capital)
During the event, participants who invite at least one user to register and join OceanEx official telegram group will obtain extra 200 Invitation Points.
During the event, participants who share the campaign poster via Twitter with at least 5 likes will obtain extra 100 Promotion Points; who share the campaign poster in 2 telegram groups with no less than 1000 members each, and send the screenshot via form will obtain extra 100 Promotion Points.
Prize Calculation and Distribution Rules:
The ranking will be calculated based on participants' total points. Participants' Total Points = Earning Points+Invitation Points+Promotion Points. Top 10 participants will be rewarded as follows:
No. 1. 500,000 OCE
No. 2. 300,000 OCE
No. 3. 100,000 OCE
No. 4. 50,000 OCE
No. 5-10. 30,000 OCE/each
*Encouragement Prize:
Users who rank 11-200 with total points of more than 0 will be rewarded 1000 OCE each.
Note:
During the event, all simulated capitals are not able to be withrew; all the simulated capitals will be reset after the event ends.
The final simulated capitals will be calculated based on the snapshot of users' assets on 21:00, Dec 8th, 2019 (UTC+8).
Important Notice:
We will distribute corresponding rewards into winners' accounts within 7 workdays after the whole event ends.
OceanEx will check for duplicate or fake accounts and will not pay out any reward on these accounts.
OceanEx reserves the rights of final explanation.
Thanks for your support! Looking forward to your participation!
Risk Warning: OceanEx provides a digital asset exchange platform. Cryptocurrency investment is subject to high risks and please be cautious about investing in the market.
OceanEx Team
Dec/02/2019
Please stay tuned and follow us on our official channels:
Twitter - https://twitter.com/OceanexOfficial
Telegram - https://t.me/OceanEx_Official
Telegram Germany - https://t.me/OceanEx_German_Official
Telegram Dutch - https://t.me/oceanexNL_dutch_official
Telegram Vietnam - https://t.me/OceanEx_Vietnam_Official
Medium - https://medium.com/@OceanEx
Facebook - https://www.facebook.com/OceanExPROOfficial