Dear users,
OceanEx's brand-new product - CryptoFarm is going to be launched at 11:00 June 18th (UTC+8)! It is a low risk value-added plan that provides users with a relatively stable asset growth solution. The first product available in CryptoFarm is VeChain (VET), the world's leading blockchain application platform driven by enterprise adoption. Before the product's official release, we have prepared this subscription guide for you to better understand how to purchase a CryptoFarm product.


Brief Information of VET CryptoFarm
Subscription Period:

21:00, Jun 18th to 21:00, Jun 19th, 2019 (UTC+8)

Lockup Period: 21:00, Jun 20th to 21:00, Jul 20th, 2019 (UTC+8) (30 days)

Total Lockup Amount: 50,000,000 VET

Annualized Expected Return:

10% annualized expected increase of VET amount + expected VTHO production income (You will receive VTHO produced at an estimated rate of 0.000432 VTHO per VET per day. Expected annualized VTHO production may contribute to around extra 2%~5% annualized VET return rate based on the assumption that current VTHO/VET price trend will continue and daily VTHO production rate is stable)
Lockup Rules:
Min. Lockup Amount: 1,000 VET per user

Max. Lockup Amount per user depends on your OCE Club Membership Level when you subscribe for the product:
Non OCE Club Member and OCE Club Lv.1 - Lv.2: 1,000,000 VET

OCE Club Lv.3 - Lv.5: 2,000,000 VET
* Please be noted that different VeChainThor ecosystem X Node holders will enjoy different Max. Lockup Amounts in the future.

Note:
Subscription can't be canceled once you subscribe for the product.

Return will be calculated from the start date of lockup period. Initial assets and return will be transferred within 3 workdays to users' accounts.

During the promotion period, there are no fees applied to this product.

OceanEx reserves the rights of final explanation.
How to Subscribe for CryptoFarm Product:
1. Enter into CryptoFarm
Once CryptoFarm will be released at 11:00 June 18th(UTC+8), you can visit OceanEx official website: https://oceanex.pro. Click "CryptoFarm" on the top side, or find it in OCE Club.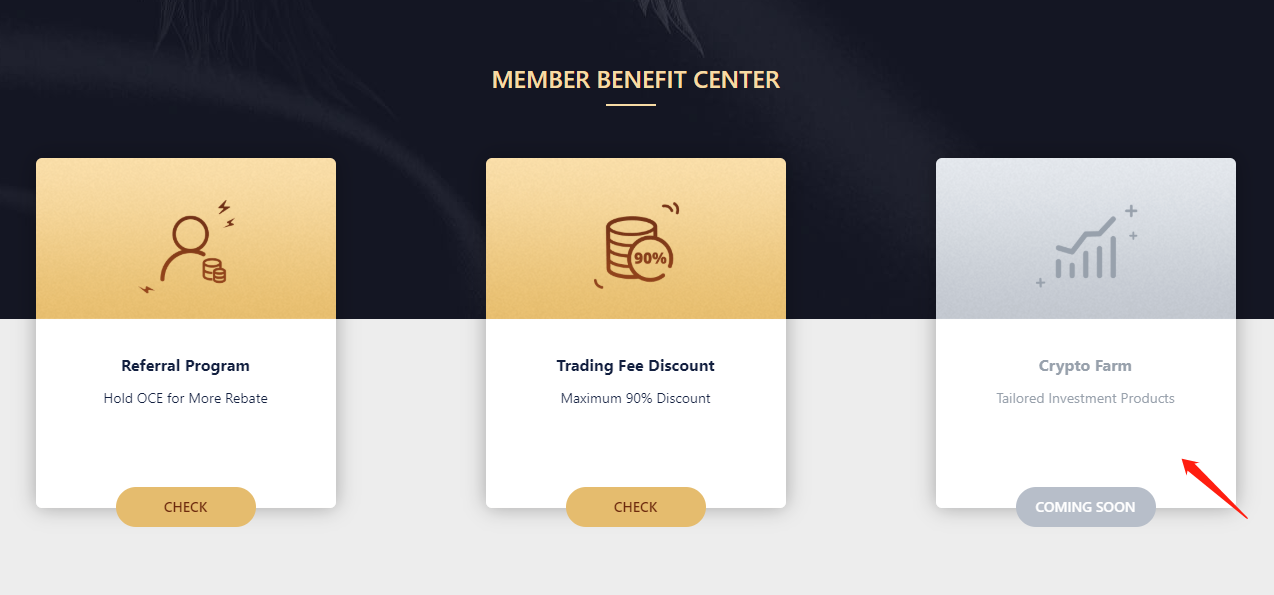 2. Choose the Product You Want to Subscribe
Find the product (VET) that you wish to subscribe, and check if it is still available or sold out. then enter into product details page.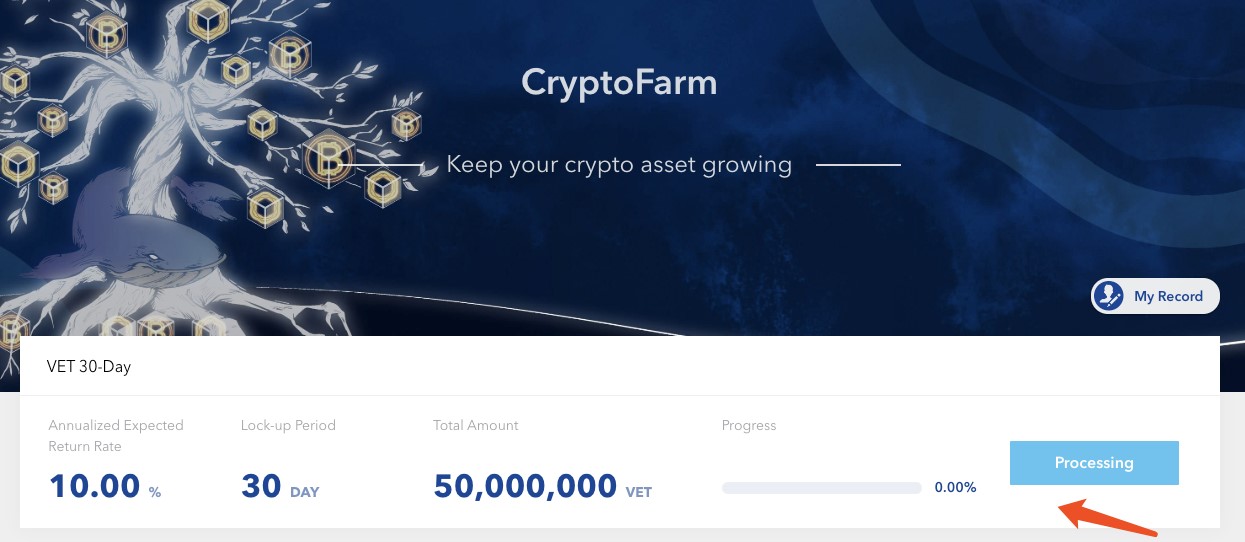 3. Accept the Agreement
You need to read and accept the agreement when first enter the product details page. Please read the terms and conditions carefully before proceeding. If you understand and accept the agreement, check the box and click "Agree".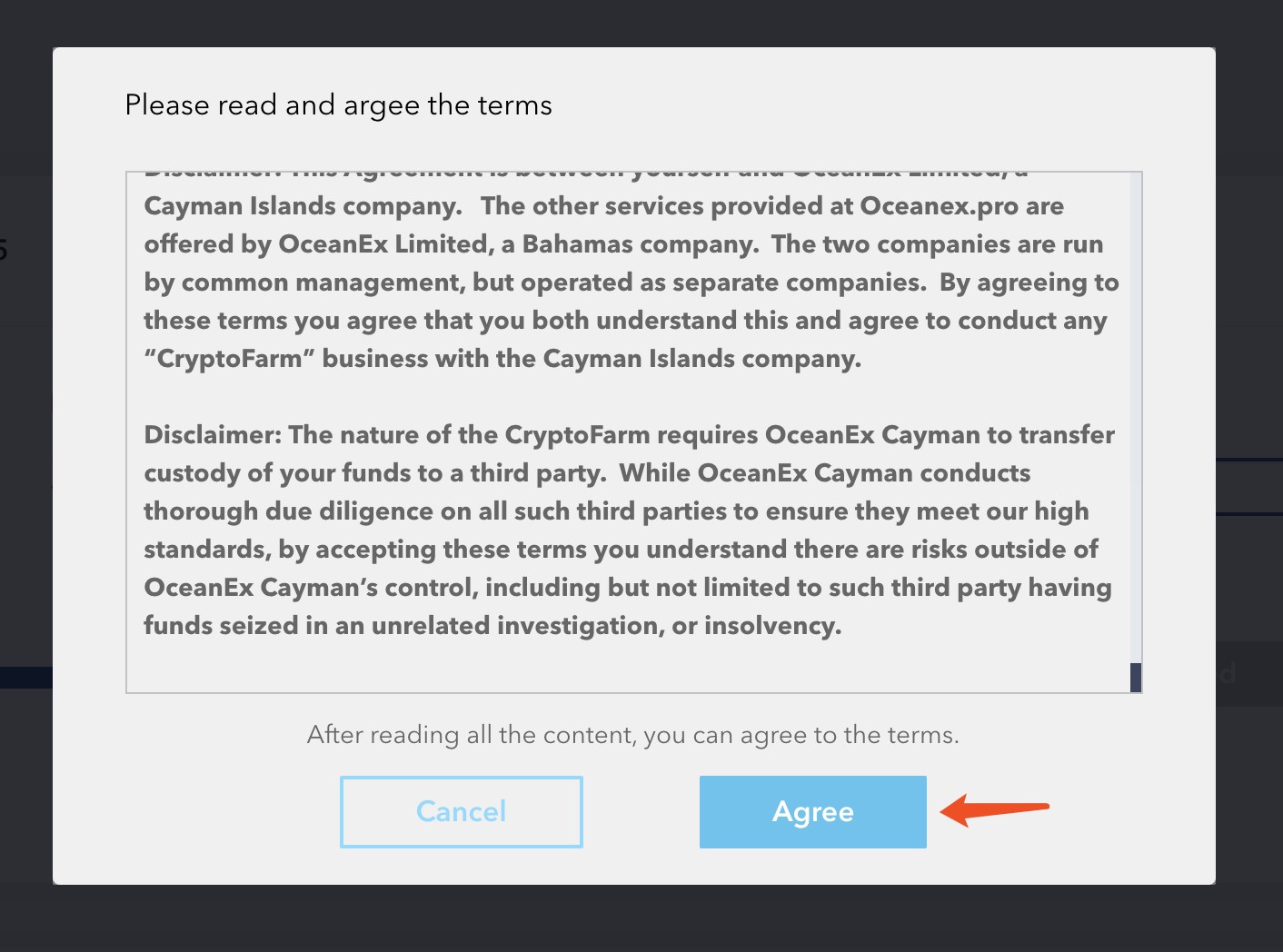 4. Enter the Lockup Value and Lock the Product
You will be required to set the lockup value (the minimum lockup amount and anticipated revenue can be found below), and then click "Lock". Once locked up, you cannot cancel it until the return is distributed.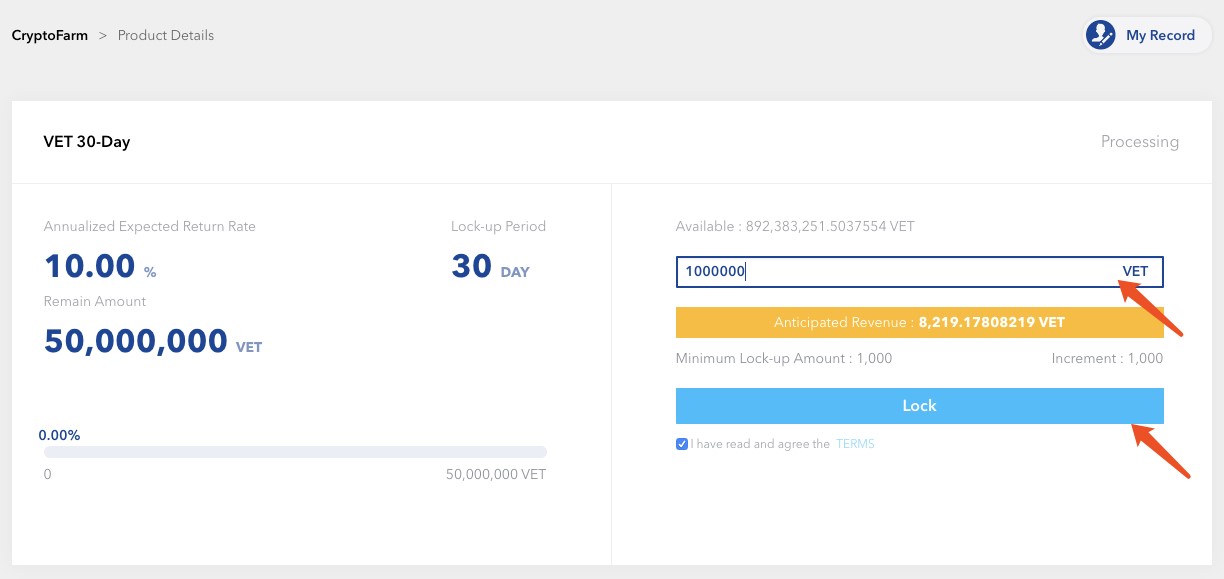 It should be mentioned that different OCE Club levels have different Maximum Luckup Amount. In the future, different VET X node holders will enjoy different lockup amounts as well.

You can also find the product schedule and CryptoFarm Q&A below: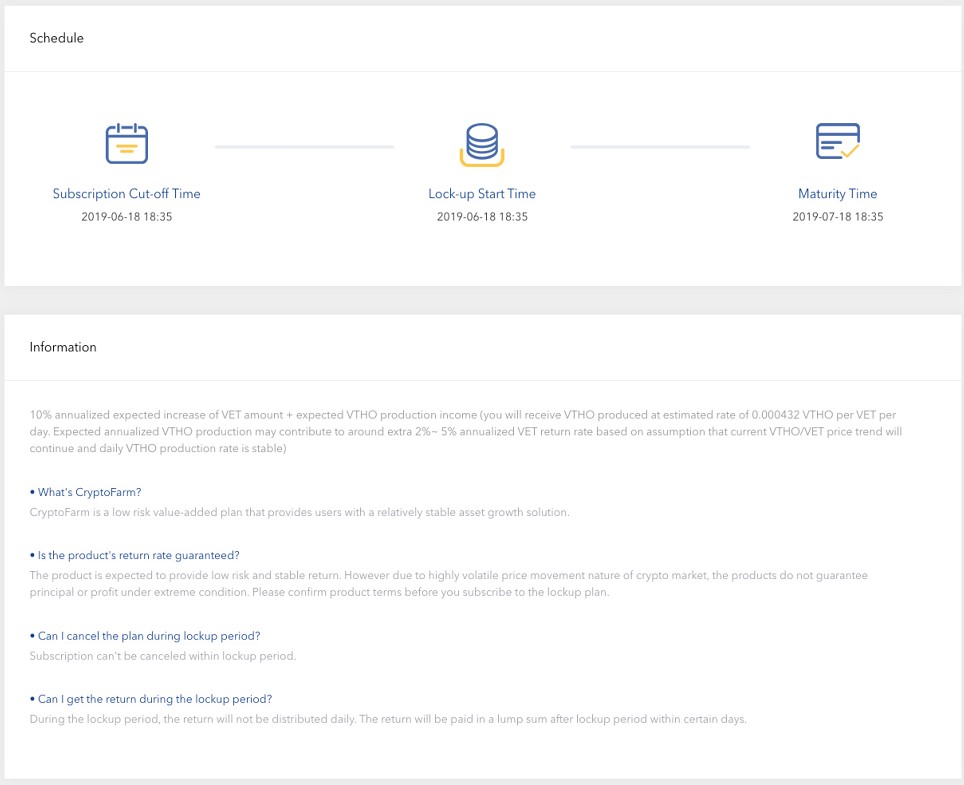 5. Review Your Lockup Record
When you finish, the page will automatically move to "My Record", where all locked up products can be found. When the lockup period is over, the return and annualized return rate will be displayed on the page.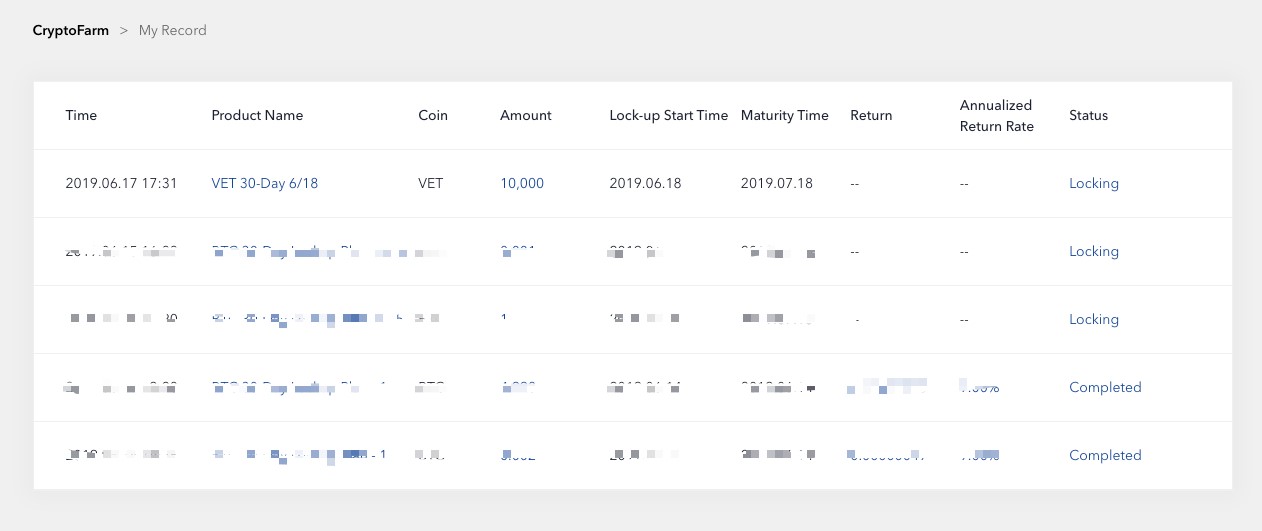 6. Review Your Transaction History
Click "Funds-History" page, you can find all your transaction history including "CryptoFarm Lock". "CryptoFarm Unlock" and "CryptoFarm Return".


7. Waiting for Return Distribution
All return will be distributed within 3 working days after the end of the lockup period. You can check the distribution record via "My Record" and "Transaction History".
CryptoFarm Q&A
Q1. What is Annualized Expected Return Rate? What do I expect to earn after the lock-up period?
A1. Annualized Expected Return Rate is a theoretical yearly return rate assuming the product's average daily return rate during the lockup period is the same for a full year.
It is calculated as: R/A * 365/N
A=Initial Asset: the amount of token/coin you decide to lock up when subscribing for the product
R=Total expected return during lockup period: the total expected amount of coin/token return during lockup period.
E.g. if annualized return rate is 10%, initial asset is 1,000,000 VET, lockup period is 30 days, then your total expected return during lockup period is 1,000,000 VET * 10% / 365 * 30 = 8,219.1781 VET
N=Lockup period, the number of days for lockup
Q2. What is lockup period? Can I withdraw my tokens during the lockup period?
A2. A lockup period is a window of time when investors in a hedge fund are not allowed to redeem.
No, users cannot withdraw their tokens during the lockup period.
Q3. What is Total Amount / Remaining Amount/ Minimum Lockup Amount?
A3. Total Amount is the total amount of tokens that are available for subscription.
Remaining Amount is the remaining amount of tokens that are available for subscription.
Minimum lockup amount is the minimum amount for users to lock up.
Q4. What is Subscription Cut-off Time/ Lockup Start Time / Maturity Time?
A4. Subscription Cut-off Time is the end of the time for users to subscribe tokens.
lockup Start Time is the start time for users to lock up their tokens,
Maturity Time: Time when lockup period ended, and users are ready to get their tokens. (Typically users will get their token within 3 days. Please carefully check the announcements of product for more details.)
Q5. Is the product's return rate guaranteed?
A5. The product is expected to provide low risk and stable return. However due to highly volatile price movement nature of crypto market, the products do not guarantee principal or profit under extreme condition (except for those products which clearly mention the return is guaranteed). Please confirm product terms before you subscribe for the lockup plan.
Q6. Can I cancel the plan during lockup period?
A6. Subscription can't be canceled within lockup period.
Q7. Can I get the return during the lockup period?
A7. During the lockup period, the return will not be distributed daily. The return will be paid in a lump sum after lockup period within certain days.
Q8. Can VET X Node holders get exclusive privilage?
A8. Not for now, but we are developing exclusive privilage plan including offering higher maximum lockup amount to different X Node holders in the future.
Hope you all enjoy CryptoFarm and have a happy voyage on growing your tokens! If you have any questions please feel free to find us via info@bitocean.org
OceanEx Team
Jun/17/2019
Please stay tuned and follow us on our official channels:
Twitter - https://twitter.com/OceanexOfficial
Telegram - https://t.me/OceanEx_Official
Medium - https://medium.com/@OceanEx