Dear users,
As a part of The Call of VeThor Campaign, OceanEx CryptoFarm is open again to our users!
What is CryptoFarm?
In CryptoFarm we will announce our wanted token periodically following by certain requirements. Once you deposit the wanted token into OceanEx and fulfill the relevant requirements you will be able to harvest more digital assets after a certain period of time.
The Wanted Token - VTHO
Deposit VTHO into your OceanEx account to get more VTHO.
Event Period: 22:00, Apr 22nd - 22:00, Apr 29th, 2019 (UTC+8)
We will rank our users based on the VTHO NET-deposit amount during the event period. The Top 200 users whose VTHO NET-deposit amount (total deposit amount minus total withdrawal amount) is no less than 50,000 VTHO during the event period will be rewarded with a VTHO Treasure Chest.
Golden Treasure Chest - 1st place: 200,000 VTHO

Silver Treasure Chests - 2nd ~ 10th places: 50,000 VTHO per user

Bronze Treasure Chests - 11th ~ 50th places: 25,000 VTHO per user

Participation Treasure Chests - 51st ~ 200th places: 5,000 VTHO per user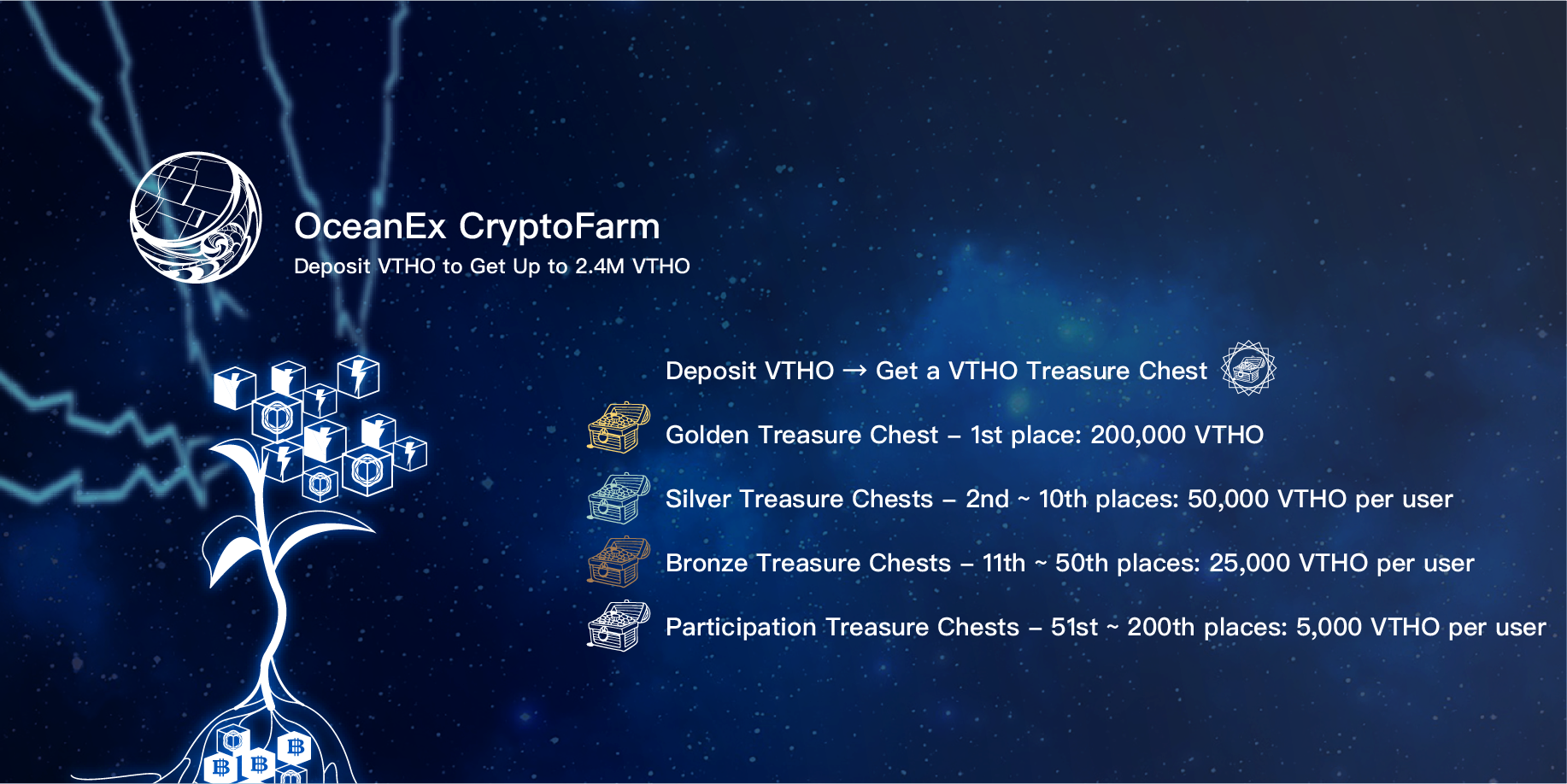 Notice:
All prizes will be distributed to winners' accounts within 7 workdays after the event ends.

OceanEx will check for duplicate or fake accounts and will not pay out any rewards on these accounts.

OceanEx reserves the rights of final explanation.

Thanks for your support! Looking forward to your participation!
OceanEx Team
Apr/22/2019
Please stay tuned and follow us on our official channels:
Twitter - https://twitter.com/OceanexOfficial
Telegram - https://t.me/OceanEx_Official
Medium - https://medium.com/@OceanEx