Dear users,
To celebrate the Trading Fee Discount function going live, we have prepared the Trading Fee Discount Competition - Win Up to 3M OCE for you!
Event Period: 22:00, Apr 2nd - 22:00, Apr 15th, 2019 (UTC+8)
During the event period, users can activate the Trading Fee Discount function and use OCE to pay for trading fees. Please refer to https://oceanex.pro/club/discount regarding to Trading Fee Discount function.
We will rank users based on their total OCE consumption amount during the event period. Top 500 users will be rewarded with a Best Trader's Prize.
1st place: 250,000 OCE
2nd place: 100,000 OCE
3rd place: 50,000 OCE

4th~10th places: 40,000 OCE per user

11th~50th places: 5,000 OCE per user

51st~500th places: 1,250 OCE per user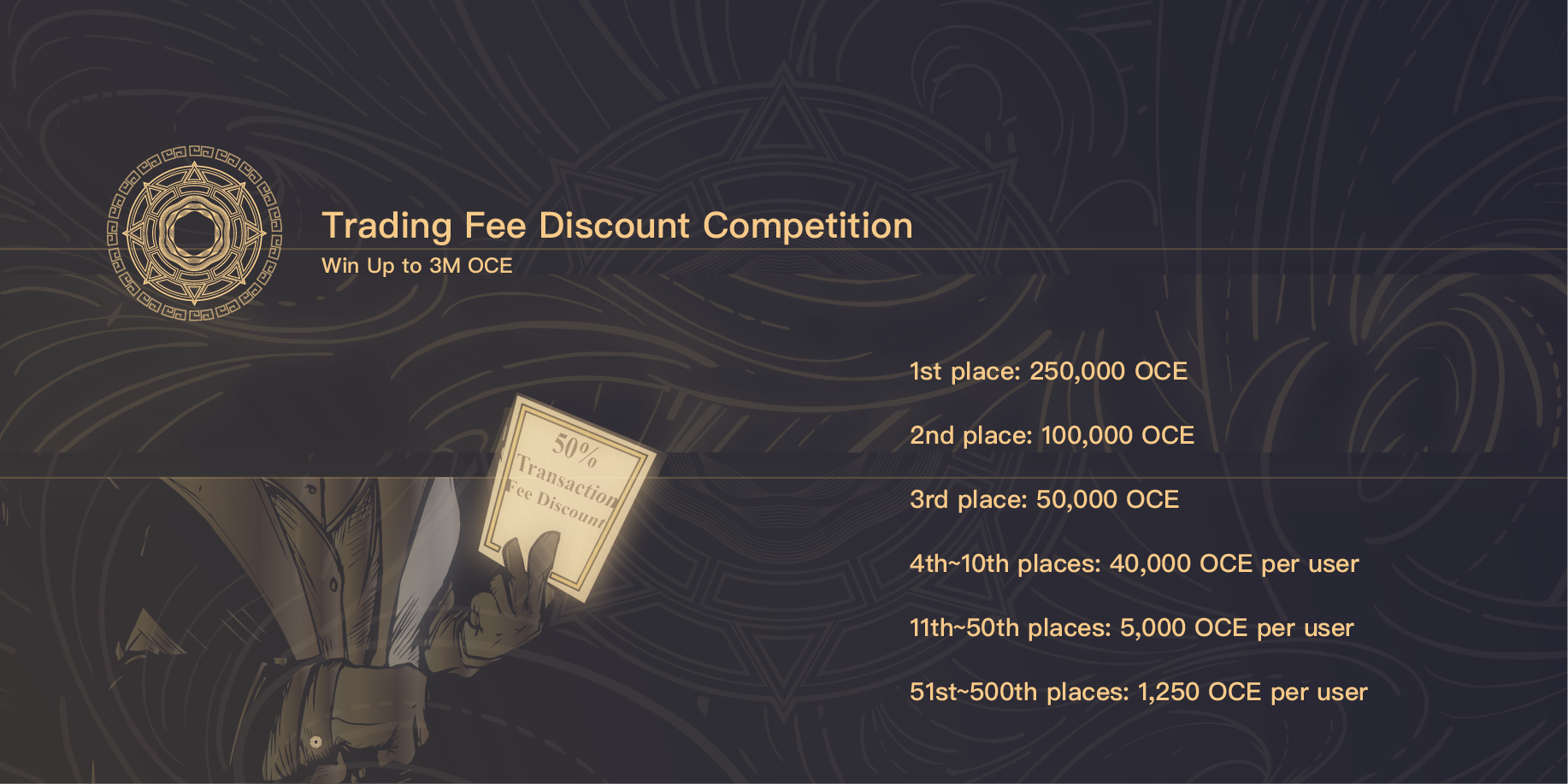 Membership Rewards:
If the winner's account upgrades to Level 2 or above and keeps the level from Apr 9th to Apr 15th, your rewards will be doubled.
Note:
Users can check whether your ranking is on the Top 50 or not via the link:

https://docs.google.com/spreadsheets/d/1CdGjSMa2IMlgbidZ_bu9VZ5V_lNb8CGKXkmruMaWS6E/edit?usp=sharing

. The data will be updated daily during the event period (weekends and holidays excepted).

All the rewards will be distributed into winners' accounts within 7 workdays after the event ends.

OceanEx will check for duplicate or fake accounts and will not pay out any rewards on these accounts.

OceanEx reserves the rights of final explanation.
Risk Warning: OceanEx provides a digital asset exchange platform. Cryptocurrency investment is subject to high risks and please be cautious about investing in the market.
* OceanEx reserves the right to change the terms of the Transaction Fee Discount program at any time due to changing market conditions, the risk of fraud, or any other factors we deem relevant.
Thanks for your support! Looking forward to your participation!
OceanEx Team
Apr/02/2019
Please stay tuned and follow us on our official channels:
Twitter - https://twitter.com/OceanexOfficial
Telegram - https://t.me/OceanEx_Official
Medium - https://medium.com/@OceanEx