Dear users,
We are excited to announce the third member from VeFam - Plair (PLA) is going to list on OceanEx (refer to "Plair (PLA) Will be Listed Soon" for more information). To thank your supports to OceanEx, Plair, and VeChain Ecosystem, we are launching the Plair Carnival to celebrate the new listing.
Plair Game Island is NOW open to all voyagers. Join us with your friends for the 2nd Plair Carnival!
Plair Carnival consists of 2 parts. Please carefully review the 2nd part - OceanEx x Plair's Got Talent to make sure you won't miss any prizes from the event!
OceanEx x Plair's Got Talent - 46M PLA Reward for Your Talent and Influence
To celebrate the third VeChain Dapp token listed on OceanEx, we have prepared "OceanEx x Plair's Got Talent" for our creative community members.
Community members from OceanEx and Plair can create an article, a poster, a series of GIFs or a video using your power of imagination to express your support and love for OceanEx and Plair!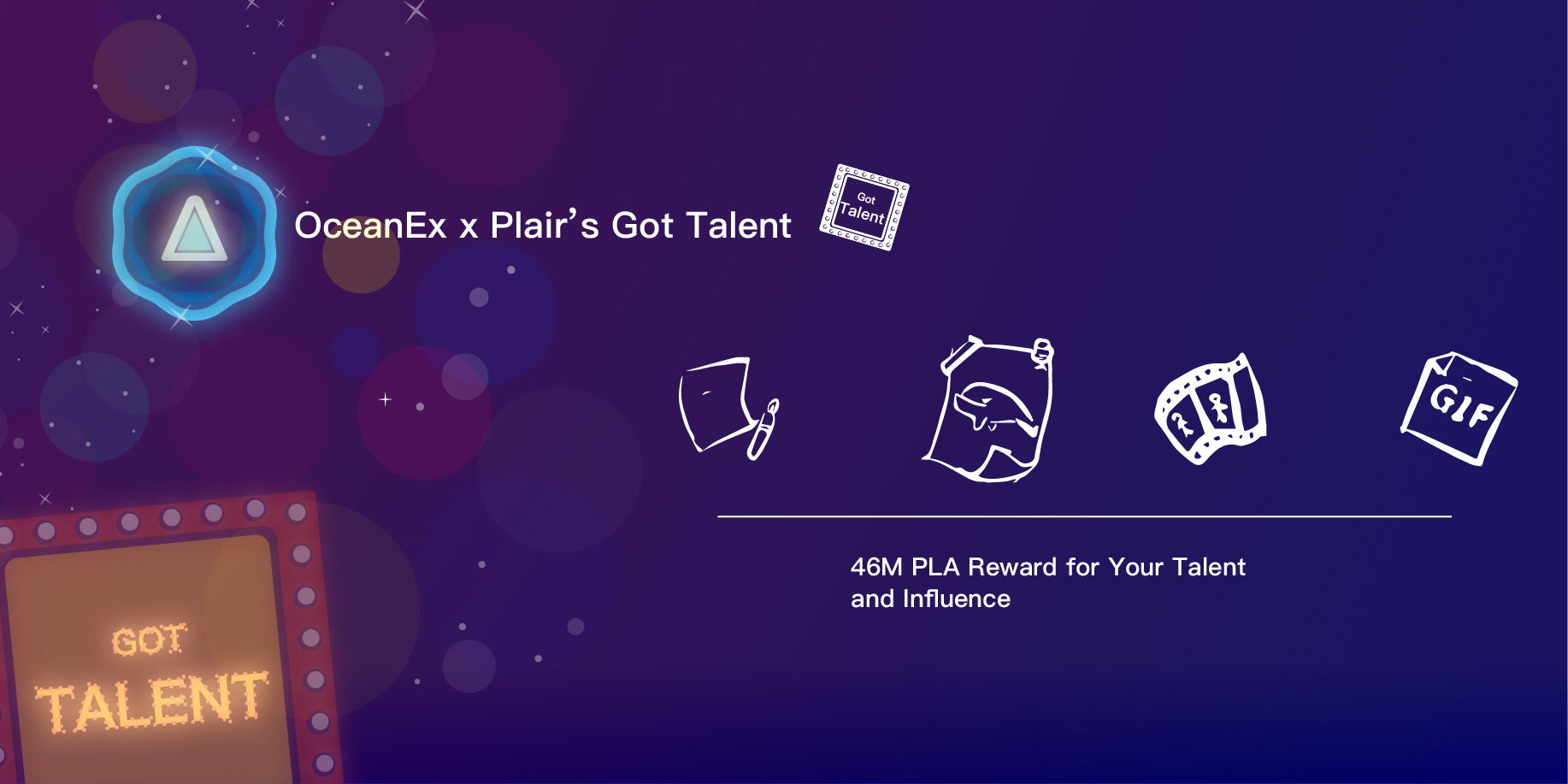 We set 3 Levels of PLA Treasure Chests Rewards for all contestants based on the creativity of their creation and influence on social media.
Assessment Standards:

Rewards Levels:

Besides, we have prepared 1 extra prize - Plair Team's Choice (5,000,000 PLA per winner) for the contestant whose creation gain the most popularity during the event.
Note: Plair Team's Choice will be voted by the Plair Team, please stay tuned for later announcement.
How to participate in OceanEx x Plair's Got Talent
Step 1: Start your creation
You may choose one or more of the following forms to start your creation: an article, a poster, a series of GIF or a video.

Please be noticed that all your works or posts must include both the Plair and OceanEx Logo (Plair_OceanEx_LOGO.ai). Otherwise your works will be considered as disqualified one.
Your works must imply at least one of the following themes:
Trade PLA on oceanex.pro

What makes PLA special?

What makes Plair stand out?
Step 2: Post your works to social media platforms
Post your works on at least one of the following social media platforms: Twitter, Youtube, Medium, Reddit, Facebook, etc. These postings are expected to be up for the entire event period to generate likes, comments and shares. All posts must have an instruction for people to trade PLA in OceanEx. (ex. Trade PLA in OceanEx @ oceanex.pro)
Step 3: Submit your works to OceanEx team
During 22:30, Mar 4th - 22:30, Mar 9th, 2019 (UTC+8), submit your works to us through the Google Form Link: https://goo.gl/forms/Lfn3G2jgVG7bB4OA2. And then post your works on our Telegram group: https://t.me/OceanEx_Official.

Please be noted that you have to fill in the OceanEx account Email address in the Google Form, otherwise you CANNOT receive corresponding rewards.
Step 4: Internal review for all contestants' works
After receiving all the submissions, we will review your works and evaluate it based on its creativity and influence on social media.
Step 5: Publish Winners' works!
OceanEx will publish winners' works on our official website, official Telegram group (https://t.me/OceanEx_Official) and other social media. More details will be announced later. Please stay tuned.
Step 6: Distribute the Prizes
We will distribute corresponding rewards into winners' accounts within 7 workdays after the whole event ends.
Note:
The work, including articles, posters, GIFs and videos must be original. Otherwise, the contestants will be disqualified by OceanEx and bear the relevant legal responsibility.

The work published in this event is regarded as the admission that contestants allow OceanEx and Plair use their works for promotion. OceanEx will be not responsible for any negative comment about the works.

If a contestant submits several works, he/she will be rewarded for the creation with the highest rating.

Important Notice:
OceanEx reserves the rights of final explanation.
Thanks for your support! Looking forward to your participation!
OceanEx Team
Mar/04/2019
Please stay tuned and follow us on our official channels:
Twitter - https://twitter.com/OceanexOfficial
Telegram - https://t.me/OceanEx_Official
Medium - https://medium.com/@OceanEx