Dear users,
We are excited to announce the third member from VeFam - Plair (PLA) is going to list on OceanEx (refer to "Plair (PLA) Will be Listed Soon" for more information). To thank your supports to OceanEx, Plair, and VeChain Ecosystem, we are launching the Plair Carnival to celebrate the new listing.
Plair Game Island is NOW open to all voyagers. Join us with your friends for the 1st Plair Carnival!
Plair Carnival consists of 2 parts. Please carefully review the 1st part - Players Assemble to make sure you won't miss any prizes from the event!
Players Assemble - Invite Your Friends to Trade PLA, Win Up to 33M PLA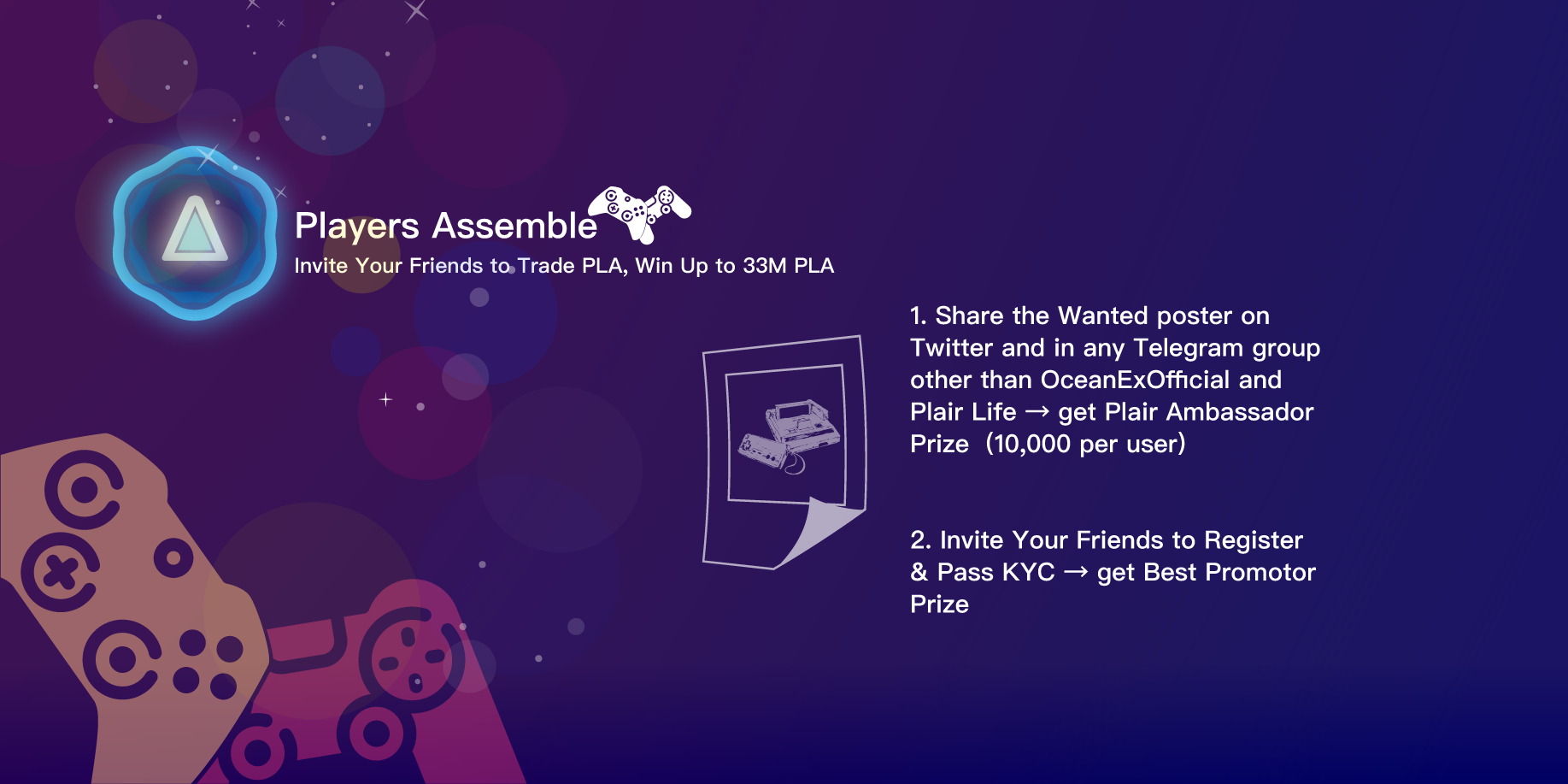 Period: 22:30, Mar 4th - 22:30, Mar 9th, 2019 (UTC+8)
1. Plair Ambassador Prize - Share Your Wanted Poster to Win a Share of 8M PLA
For all participants, to get this reward you need to complete the following tasks during the event period:
Create your Wanted poster via the link: https://oceanex.pro/PA-PLA
Share the Wanted poster on Twitter with the 1) Name of the game in your poster 2) The time you played it 3) Hashtag #WinPLAonOceanEx, @OceanexOfficial, and exchange link: oceanex.pro. These postings need to be up for the entire competition period to generate at least 5 likes.

Share the poster in any Telegram group no less than 500 members other than OceanExOfficial and Plair Life.

Send 1) the poster promotion Twitter link 2) the screenshot of your Telegram post including the group name and number of people 3) your registered email account on OceanEx to us through the Google Form link: https://goo.gl/forms/ugVpgvAxJhAG2HGp2

Please be aware that for this event you will not be submitting your information through the ticket system. All valid submissions should use the Google Form link in the above bullet.
Note:
After finishing all the steps, you will be rewarded with 10,000 PLA per account. Otherwise, you will not be eligible for any reward.

All rewards will be distributed on a first-come-first-served basis.

As for the users who provide falsified materials, or use any other improper means to cheat for the rewards, OceanEx will deal with them seriously.
2. Best Promotor Prize - Invite Your Friends to Register & Pass KYC to Win Up to 25M PLA!
Invite your friends to register an oceanex.pro account & pass Identity Verification (KYC) via your Referral ID shown on your Wanted poster (https://oceanex.pro/PA-PLA). Both inviters and invitees will be rewarded with 25,000 PLA each; there are no limits on how many people you can invite.
Note:
Your invitees must enter your Referral ID upon registration or they will not be included when calculating the rewards. The referral relationship will remain in the future referral program.

Your Invitation data will be shown together with the Wanted poster webpage.

In total 25M PLA are available for this reward, adding up for a total of 500 inviter-invitee pairs who will receive this reward. All rewards will be distributed on a first-come-first-served basis.
Important Notice:
All the rewards will be distributed into winners' accounts within 7 workdays after the event ends.

OceanEx will check for duplicate or fake accounts and will not pay out any rewards on these accounts.

OceanEx reserves the rights of final explanation.

Looking forward to your participation!
OceanEx Team
Mar/04/2019
Please stay tuned and follow us on our official channels:
Twitter - https://twitter.com/OceanexOfficial
Telegram - https://t.me/OceanEx_Official
Medium - https://medium.com/@OceanEx