Dear CryptoCup participants,
Thanks for your tremendous enthusiasm and support to our Alpha Test!
After a thorough review and discussion within OceanEx, the final ranking of Smart Investor Competition is as below: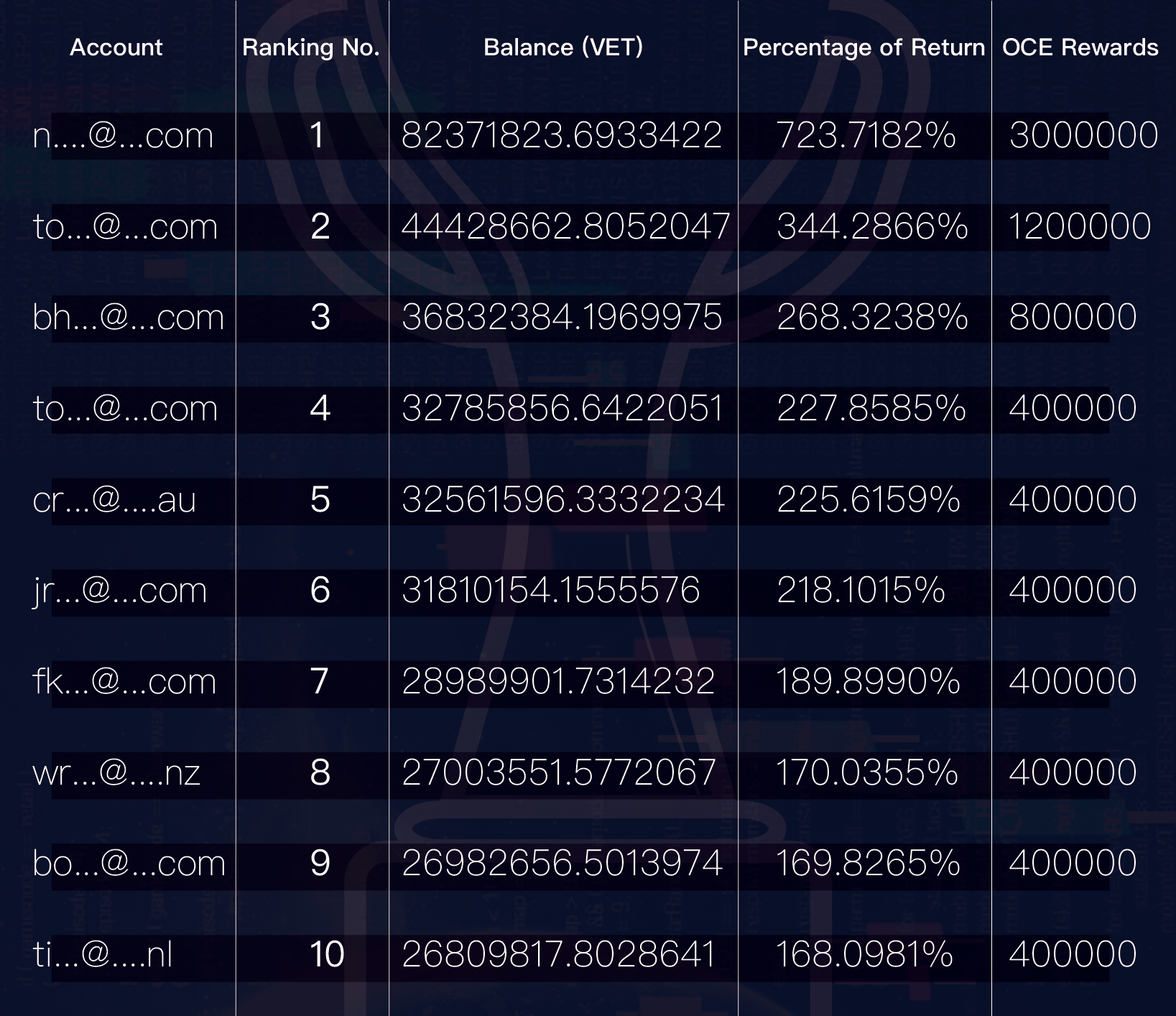 To see the complete Top 100 investors rewards list please visit: Smart Investor Competition - Top 100.xlsx
Congratulations to the Top 100 investors. Your investment strategies have been proven by the market and outperformed more than 90% contestants in the competition. Well done!
As to the debate in the community regarding the VET buy wall, we appreciate all of your feedbacks to this issue. We have gone through each of your messages, emails and screenshots. We feel responsible to disclose what really happened and our conclusion to all participants.
After investigating into the uncommon buy order of VET/BTC trading pair at the price of 162 satoshis on Nov 12th 2018, we discovered that it was placed by one of our market makers (in the announcement OceanEx CryptoCup [Alpha Test] - Compete for 50 Million OCE! we explicitly stated professional market makers will be invited to provide liquidity) but not caused by any hacking behavior of our participants or outsiders.
The price of the buy order was about 2.53% higher than the market price at that time. Due to its enormous quantity at 617,283,949,238,382 VET it has disrupted the market for a short period of time and created a window for triangular arbitrage. Some contestants have spotted this buy order and reported to our ticket system and admins in telegram group. A small group of contestants took this as an arbitrage opportunity and made a quick profit from it. We contacted the market maker right after we received the report. It turns out the order was mistakenly placed by the market maker and got cancelled accordingly. In addition, we have also looked into top 100 accounts for their KYC status and transaction histories. However, we haven't detected any suspicious trading behaviors.
We deeply feel for those contestants who have led the competition for a long time and been surpassed in the Final Day. However, we decide to not change the final ranking due to the following reasons:
As financial market is not always efficient which creates trading opportunities, investors who are able to identify those arbitrage opportunities in an open market entitled the profits.

The competition is designed to reward contestants for their final return and strategy but not the time input (we designed the Flash Boys Competition for that purpose).

The market is unpredictable by nature. As long as the competition is not over, the ranking at any point in time (eg. Day 4) should not be presumed as the final ranking.
When confronting the incident, some contestants chose to report it out of their beliefs in fairness, and some chose to adapt to the market and take advantage of it. We cannot judge those choices but respect the result. Therefore, we decide to honor the final ranking.
Last, we are very proud to have everyone of you in this competitive contest. OceanEx is sailing to the next stop. If you are interested in getting involved in our future development, please reach our admins in telegram or submit a ticket via our ticket system.
Thanks again for your understanding and support!

OceanEx Team
Nov/17/2018
Please stay tuned and follow us on our official channels:
Twitter - https://twitter.com/OceanexOfficial
Telegram - https://t.me/OceanEx_Official