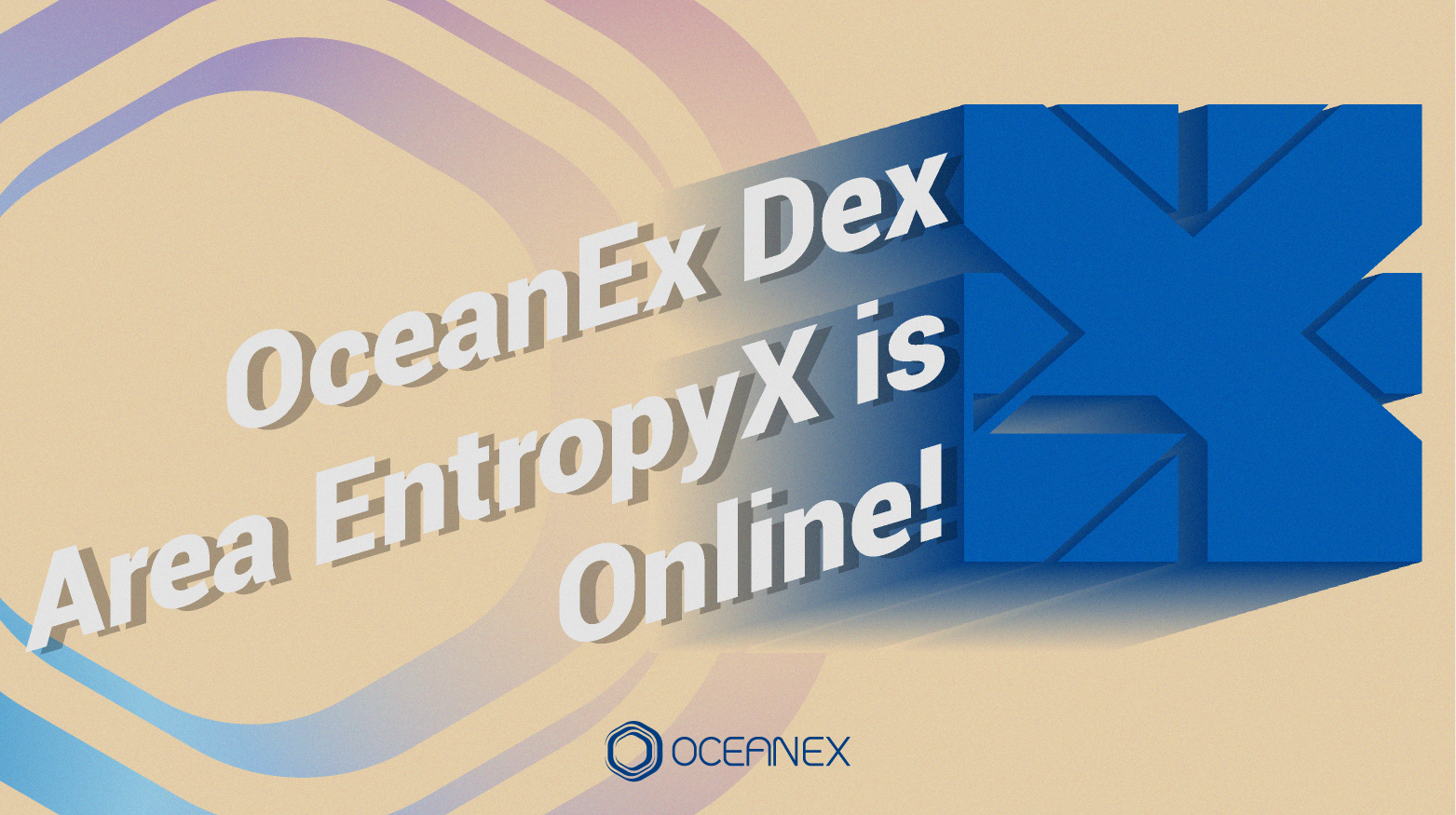 Dear User,
We are extremely excited to announce that the long awaited OceanEX DEX Area EntropyX has ushered in the trial operation stage!Please navigate to oceanex.pro to discover more about entropyx.xyz !

What is EntropyX?
EntropyX ,the decentralized exchange of OceanEx ,aims to become the next-generation multi-chain DEX to provide Liquidity as a Service solution with Discretized Liquidity AMM model . Unlike centralized exchanges, as a peer-to-peer marketplace where tradings occur directly between different crypto traders in the market, EntropyX provide users with liquidity products which supported Ethereum, Arbitrum and BNB-Chain and more in 100% non-custodial way while its swap products ENTSwap used an innovative high efficiency AMM model compatible with Uniswap V3 and Orderbook.
Now we have brought to you the first new product of EntropyX——ENTSwap. Come and discover the detailed information with us !
What is ENTSwap?
ENTSwap is a simple and easy tool to buy or sell your crypto assets with zero fees. With ENTSwap lite version(swap) you don't have to place orders on the traditional trading interface on the exchange but to convert your crypto assets to other ones instantly and simply with just a few clicks and enjoy real-time live prices based on the current market conditions while on ENTSwap pro version,you can enjoy limit/market orders as traditional trading interface do.
On ENTSwap you are able to trade tokens at an exact price to avoid front-run and slippage and keep your money 100% in your wallet in a fully decentralized and non-custodial way. Multiple products like liquidity and farm(coming soon) on ENTSwap allows you to obtain more rewards in various ways.
——Fresh and Easy Tutorial——
Should you have any questions or concerns about the newly listed DEX EntropyX, or if you are facing problems using our new products, please feel free to contact us through a ticket.
Hope you can enjoy and have great trading experience on EntropyX!
More products and benefits will be launched soon, please stay tuned!
OceanEx Team
May/22/2023
Please stay tuned and follow us on our official channels:
Twitter -  https://twitter.com/OceanexOfficial
Telegram -  https://t.me/OceanEx_Official
Telegram Germany -  https://t.me/OceanEx_German_Official
Telegram Dutch -  https://t.me/oceanexNL_dutch_official
Telegram Vietnam -  https://t.me/OceanEx_Vietnam_Official
Telegram Indian- https://t.me/OceanEx_Indian_Official
Medium -  https://medium.com/@OceanEx
Facebook -  https://www.facebook.com/OceanExPROOfficial