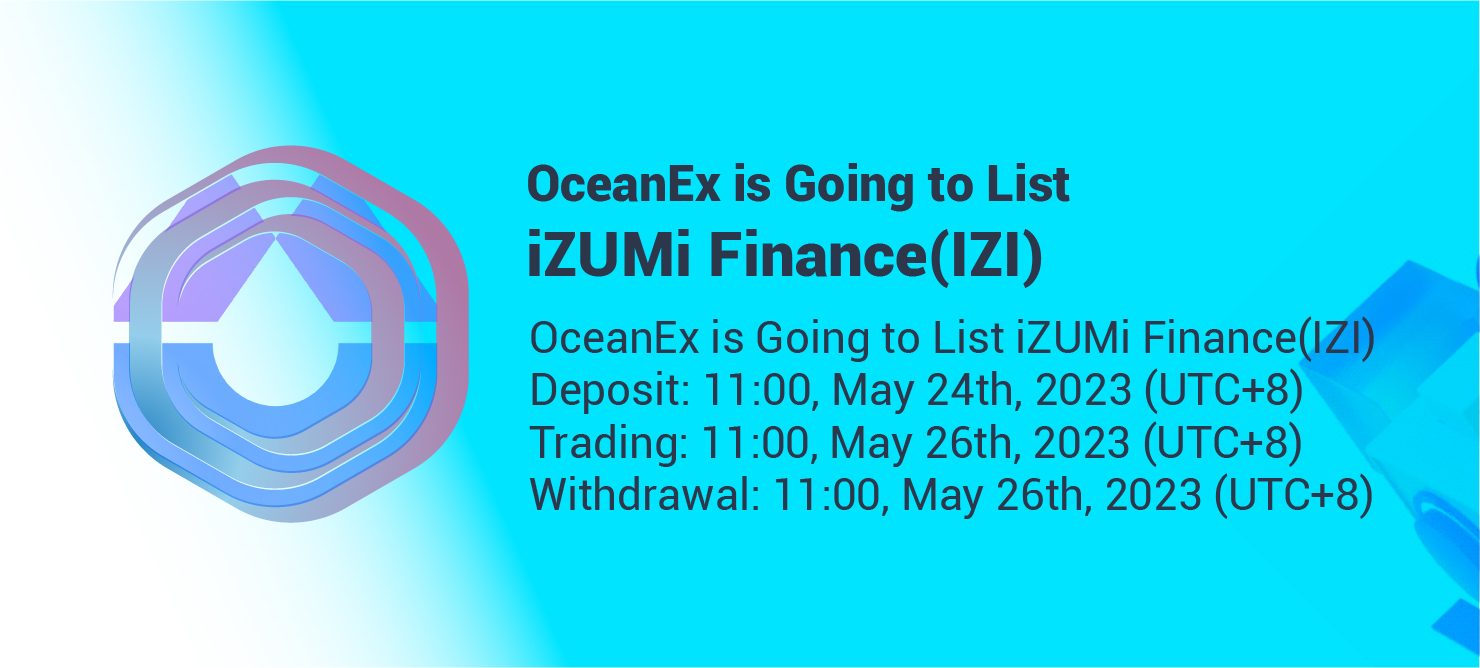 Dear users,
We are very excited to announce that OceanEx is going to list iZUMi Finance(IZI)!
Deposit (erc20, BNB Smart Chain): 2023-5-24 11:00(UTC+8).
IZI/USDT trading: 2023-5-26 11:00 (UTC+8).
Withdrawal (erc20, BNB Smart Chain): 2023-5-26 11:00(UTC+8).
iZUMi Finance is a multi-chain DeFi protocol providing One-Stop Liquidity as a Service (LaaS). Its philosophy is that every token deserves better on-chain liquidity in an efficient and lasting way. As the name "iZUMi" in Japanese signifies, its ultimate goal is to help every partner and token to enjoy on-chain liquidity like spring water, continuous and long-lasting for centuries.
Detailed description of the minimum deposit amount requirements, fees, and withdrawal amount limitations, please refer to:
Thank you for your continued support of OceanEx!
Risk Warning: OceanEx provides a digital asset exchange platform. Cryptocurrency investment is subject to high risks and please be cautious about investing in the market. When a new currency is listed, it may be accompanied by relatively violent price fluctuations. Please be careful to participate in the transaction after evaluating the risks.
OceanEx Team
May/23/2023
Please stay tuned and follow us on our official channels:
Twitter -  https://twitter.com/OceanexOfficial
Telegram -  https://t.me/OceanEx_Official
Telegram Germany -  https://t.me/OceanEx_German_Official
Telegram Dutch -  https://t.me/oceanexNL_dutch_official
Telegram Vietnam -  https://t.me/OceanEx_Vietnam_Official
Telegram Indian- https://t.me/OceanEx_Indian_Official
Medium -  https://medium.com/@OceanEx
Facebook -  https://www.facebook.com/OceanExPROOfficial