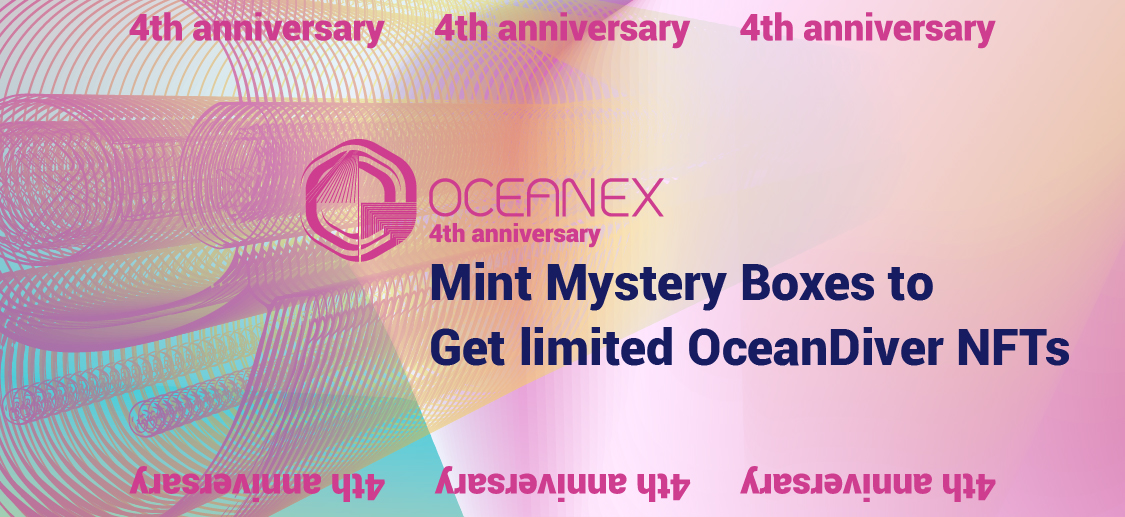 Dear users,
To thank all of our beloved OceanEx supporters, we have issued OceanEx 4th Anniversary limited OceanDiver NFTs!
Simply mint your own Mystery Boxes NFT by 10,000 OCE and open it to get limited OceanDiver NFTs and 15,000 OCE airdrop!
Event entrance and details :Mint Mystery Boxes
Event time: 16:00 Dec 12th,2022— 16:00 Dec 19th, 2022 (UTC+8)
Thank you for your support and looking forward to your participation!
Risk Warning: OceanEx provides a digital asset exchange platform. Cryptocurrency investment is subject to high risks and please be cautious about investing in the market.
OceanEx Team
Dec/12th/2022
Please stay tuned and follow us on our official channels:
Twitter -  https://twitter.com/OceanexOfficial
Telegram -  https://t.me/OceanEx_Official
Telegram Germany -  https://t.me/OceanEx_German_Official
Telegram Dutch -  https://t.me/oceanexNL_dutch_official
Telegram Vietnam -  https://t.me/OceanEx_Vietnam_Official
Telegram Indian - https://t.me/OceanEx_Indian_Official
Medium -  https://medium.com/@OceanEx
Facebook -  https://www.facebook.com/OceanExPROOfficial